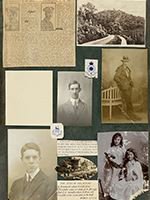 Every week, a wide assortment of archive documents and local studies material from a variety of sources passes through our doors to join the six miles of records in our strongrooms.
Behind the scenes, we work closely with the records, diligently cataloguing, cleaning, conserving and packaging them so that they can be made available to the public.
It's work that we thoroughly enjoy, and everyone here has a tale to tell: whether it's the story behind a favourite book, the background to an unusual collection, or how we repaired a very fragile document.
Each month, the Surrey Heritage teams showcase their own particular "Marvel of the Month".
Our February Marvel of the Month explores two fascinating and personal albums compiled by a Reigate family in the early 20th century.
2022 Marvels
For our December Marvel of the Month, the Surrey Finds Liaison Officer reports on an unusual and significant archaeological discovery.
The Elstead Hoard of Roman silver coins
For our November Marvel of the Month, Guildford Rural District Council records revealed fascinating stories of people who devoted their time to help the war effort.
Wartime Civil Defence Personnel Identity Registers
In October, for Black History Month, we celebrated the life and work of African American author and poet Phillis Wheatley and explore her connection with Surrey.
Phillis Wheatley: the 'Mother of Black Literature'
For our September Marvel of the Month, we learnt more about Surrey County Archaeological Unit's partnership with the National Trust to explore the history of the landscapes at Runnymede and Ankerwycke.
Excavation at Ankerwycke Priory
Our August Marvel of the Month celebrated how South Asian people have made their own unique contributions to the county of Surrey.
Our July Marvel of the Month marked the centenary of the Law of Property Act which led to the preservation of, and promotion of access to, manorial records in England and Wales.
For Gypsy, Roma and Traveller History Month in June, we revealed the campaigns of a writer and artist who championed the cause of the gypsy community in Epsom.
Our May Marvel of the Month explored the life and work of an English antiquary and topographer who produced a rich history and geography of the county of Surrey.
For April's Marvel of the Month, we welcomed the return of a record of everyday life in 1959 by the pupils of Hale County Primary School.
For Women's History Month in March, we discovered the moving and courageous story of a Surrey schoolgirl who became a secret agent during the Second World War.
For LGBT+ History Month in February, we looked at documenting Transgender stories and the challenges it can present.
2021 Marvels
December
November
October
September
August
July
June
May
April
March
February
2020 Marvels
December
November
October
September
August
July
June
May
April
March
February
2019 Marvels
December
November
October
September
August
July
June
May
April
March
February
2018 Marvels
December
November
October
September
August
July
June
May
April
March
February
2017 Marvels
December
November
October
September
August
July
June
May
April
March
February
2016 Marvels
December
November
October
September
August
July
June
May
April
March
February
2015 Marvels
December
November
October
September
August
July
June
May
April
March
February
2014 Marvels
December
November
October
September
August
July
June
May
April
March
February
2013 marvels
December
November
October
September
August
July
June
May
April
March
February
January
2012 marvels
December
November
October
September
August
July