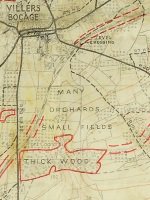 Every week, a wide assortment of archive documents and local studies material from a variety of sources passes through our doors to join the six miles of records in our strongrooms. Behind the scenes, we work closely with the records, diligently cataloguing, cleaning, conserving and packaging them so that they can be made available to the public. It's work that we thoroughly enjoy, and everyone here has a tale to tell: whether it's the story behind a favourite book, the background to an unusual collection, or how we repaired a very fragile document.
Each month, the Surrey Heritage teams showcase their own particular "Marvels of the Month".
For our June Marvel of the Month, to mark the 75th anniversary of D-Day, records held at Surrey History Centre tell the story of Surrey's role in the Normandy Landings.
Our May Marvel of the Month revealed Vernon Lushington's admiration for the work of the great American poet, Walt Whitman.
Our April Marvel of the Month told the story of Cecil Gordon Vokes whose engineering company played an important role in Surrey's 20th century industrial history.
Our March Marvel, for Women's History Month, delved into the complex marriage settlement of Augusta Ada Byron, better known as Ada Lovelace, the mathematician and computer pioneer.
Our February Marvel of the Month explored some valuable service records of the First World War.
Our December Marvel of the Month revealed some stunning 18th century panoramas from our collections.
Our November Marvel of the Month marked the centenary of the end of the First World War.
Our October Marvel of the Month celebrated the histories of black communities and individuals who have made their home in Surrey.
For our September Marvel of the Month, our March of the Women team told the story behind the bombing of David Lloyd George's house in 1913.
Our August Marvel of the Month described the discovery of Neolithic Peterborough Ware by Surrey County Archaeological Unit (SCAU) during excavations at a site near Staines.
For our July Marvel, to mark the centenary year of the death of Sir Hubert Parry, the Lushington family's friendship with the great British composer was revealed in family papers held at Surrey History Centre.
Our June Marvel told the story behind two First World War photographs from the Surrey Regiment collections.
Our May Marvel revealed the restoration of Sir William More's journal from the Loseley Manuscripts.
Our April Marvel explored the growing popularity of cycling in the county since the 1870s.
Our March Marvel revealed extraordinary First World War training notes and hand-drawn plan of Deepcut and Blackdown Camps.
Our February Marvel examined one of the most infamous icons of Victorian Britain.
---
2017 Marvels
December
November
October
September
August
July
June
May
April
March
February
---
2016 Marvels
December
November
October
September
August
July
June
May
April
March
February
---
2015 Marvels
December
November
October
September
August
July
June
May
April
March
February
---
2014 Marvels
December
November
October
September
August
July
June
May
April
March
February
---
2013 marvels
December
November
October
September
August
July
June
May
April
March
February
January
---
2012 marvels
December
November
October
September
August
July