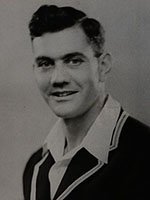 Every week, a wide assortment of archive documents and local studies material from a variety of sources passes through our doors to join the six miles of records in our strongrooms. Behind the scenes, we work closely with the records, diligently cataloguing, cleaning, conserving and packaging them so that they can be made available to the public. It's work that we thoroughly enjoy, and everyone here has a tale to tell: whether it's the story behind a favourite book, the background to an unusual collection, or how we repaired a very fragile document.
Each month, the Surrey Heritage teams showcase their own particular "Marvels of the Month".
Our March Marvel of the Month remembers the foundation of Surrey County Cricket Club and the career of Surrey and England bowler and Woking resident Alec Bedser.
For LGBT+ History Month in February, we celebrated the life of one of the greatest British writers of the 20th century who lived in Surrey for over 40 years.
---
2019 Marvels
Our December Marvel of the Month celebrated the historical development of Guildford High Street through documents, illustrations and maps held at Surrey History Centre.
For our November Marvel of the Month, copies of a home-produced newspaper by a Thames Ditton family painted a charming picture of life on the home front during the First World War.
Our October Marvel, for Black History Month, revealed the inspiring story of an American inventor and entrepreneur who played an important part in the British war effort in Surrey.
For our September Marvel of the Month, letters of Lady Wallis held in our archives gave a valuable insight into the life and mind of her husband, inventor Sir Barnes Wallis.
For our August Marvel of the Month, Surrey County Archaeological Unit's excavations at North Park Farm Quarry, Bletchingley, revealed the development of a landscape through 10 millennia.
Our July Marvel of the Month featured a fascinating album compiled by Surrey County Council employee, Winifred Hutchings, recording bomb damage to County Hall during the Second World War.
For our June Marvel of the Month, to mark the 75th anniversary of D-Day, records held at Surrey History Centre told the story of Surrey's role in the Normandy Landings.
Our May Marvel of the Month revealed Vernon Lushington's admiration for the work of the great American poet, Walt Whitman.
Our April Marvel of the Month told the story of Cecil Gordon Vokes whose engineering company played an important role in Surrey's 20th century industrial history.
Our March Marvel, for Women's History Month, delved into the complex marriage settlement of Augusta Ada Byron, better known as Ada Lovelace, the mathematician and computer pioneer.
Our February Marvel of the Month explored some valuable service records of the First World War.
---
2018 Marvels
December
November
October
September
August
July
June
May
April
March
February
---
2017 Marvels
December
November
October
September
August
July
June
May
April
March
February
---
2016 Marvels
December
November
October
September
August
July
June
May
April
March
February
---
2015 Marvels
December
November
October
September
August
July
June
May
April
March
February
---
2014 Marvels
December
November
October
September
August
July
June
May
April
March
February
---
2013 marvels
December
November
October
September
August
July
June
May
April
March
February
January
---
2012 marvels
December
November
October
September
August
July