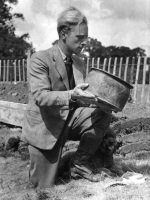 Every week, a wide assortment of archive documents and local studies material from a variety of sources passes through our doors to join the six miles of records in our strongrooms. Behind the scenes, we work closely with the records, diligently cataloguing, cleaning, conserving and packaging them so that they can be made available to the public. It's work that we thoroughly enjoy, and everyone here has a tale to tell: whether it's the story behind a favourite book, the background to an unusual collection, or how we repaired a very fragile document.
Each month, the Surrey Heritage teams showcase their own particular "Marvel of the Month".
For our December Marvel of the Month, we learn about the archaeological exploration of a mediaeval site in Banstead.
For our November Marvel of the Month, the vicar of Headley's meticulous notes gave a fascinating insight into nineteenth century agricultural village life.
Our October Marvel of the Month explored Surrey's contribution to the campaign for the abolition of slavery in the early 19th century.
Our September Marvel of the Month celebrated the work of cartographer, publisher and globemaker, John Senex (1678-1740).
Our August Marvel of the Month explored the interest in milestones as features of the historic environment.
Our July Marvel of the Month revealed 18th century sketches of the famous gardens created by Charles Hamilton at Painshill, Cobham.
For our June Marvel of the Month, we discovered how Surrey Heritage volunteers managed to identify the owner of a First World War spoon excavated at Witley Camp.
For our May Marvel of the Month, the notebook of Thomas Henry Farrer of Abinger revealed his friendship and family connections with naturalist, geologist and biologist, Charles Darwin.
For our April Marvel of the Month, title deeds, some surviving for nearly 800 years, revealed many stories of people and places with tantalising clues to the lives of those whose transactions they record.
Our March Marvel of the Month remembered the foundation of Surrey County Cricket Club and the career of Surrey and England bowler and Woking resident Alec Bedser.
For LGBT+ History Month in February, we celebrated the life of one of the greatest British writers of the 20th century who lived in Surrey for over 40 years.
---
2019 Marvels
December
November
October
September
August
July
June
May
April
March
February
---
2018 Marvels
December
November
October
September
August
July
June
May
April
March
February
---
2017 Marvels
December
November
October
September
August
July
June
May
April
March
February
---
2016 Marvels
December
November
October
September
August
July
June
May
April
March
February
---
2015 Marvels
December
November
October
September
August
July
June
May
April
March
February
---
2014 Marvels
December
November
October
September
August
July
June
May
April
March
February
---
2013 marvels
December
November
October
September
August
July
June
May
April
March
February
January
---
2012 marvels
December
November
October
September
August
July