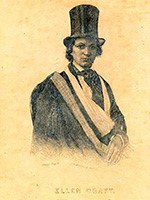 Every week, a wide assortment of archive documents and local studies material from a variety of sources passes through our doors to join the six miles of records in our strongrooms.
Behind the scenes, we work closely with the records, diligently cataloguing, cleaning, conserving and packaging them so that they can be made available to the public.
It's work that we thoroughly enjoy, and everyone here has a tale to tell: whether it's the story behind a favourite book, the background to an unusual collection, or how we repaired a very fragile document.
Each month, the Surrey Heritage teams showcase their own particular "Marvel of the Month".
2023 Marvels
For Black History Month in October, Surrey History Centre honours the lives and achievements over the centuries of Black women with Surrey connections.
Our September Marvel of the Month shared interesting extracts from transcripts of pre-1700 Prerogative Court of Canterbury (PCC) wills relating to Surrey which can be searched in our catalogue.
In August, for South Asian History Month, we explored the experiences of refugees fleeing Idi Amin's regime in 1972 and the many volunteers who helped them.
For our July Marvel of the month, excavations by the Surrey County Archaeological Unit revealed significant evidence for the 9th to 12th century development of Godalming. (Please note, this article includes images of skeletons).
Our June Marvel of the Month explored the difficult relationship between 'the most unhappy man in the world' and the controversial architect he commissioned to transform his Surrey estate.
Our May Marvel of the Month recalled the Coronation of Queen Elizabeth II with photographs and reminiscences of a Surrey street party.
Our April Marvel of the Month revealed some delightful illustrations of Dorking, painted in the 1840s and 1850s by unknown artist, H White.
For Women's History Month in March, we celebrated the long life of a radical writer and hostess through the recollections of the Farrer family of Abinger Hall whose papers are held at Surrey History Centre.
Our February Marvel of the Month explored two fascinating and personal albums compiled by a Reigate family in the early 20th century.
2022 Marvels
December
November
October
September
August
July
June
May
April
March
February
2021 Marvels
December
November
October
September
August
July
June
May
April
March
February
2020 Marvels
December
November
October
September
August
July
June
May
April
March
February
2019 Marvels
December
November
October
September
August
July
June
May
April
March
February
2018 Marvels
December
November
October
September
August
July
June
May
April
March
February
2017 Marvels
December
November
October
September
August
July
June
May
April
March
February
2016 Marvels
December
November
October
September
August
July
June
May
April
March
February
2015 Marvels
December
November
October
September
August
July
June
May
April
March
February
2014 Marvels
December
November
October
September
August
July
June
May
April
March
February
2013 marvels
December
November
October
September
August
July
June
May
April
March
February
January
2012 marvels
December
November
October
September
August
July