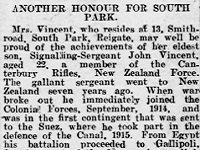 November 2017 marked the centenary of the end of the third Battle of Ypres, otherwise known as Passchendaele. The name, along with the Somme, has come to symbolise the horrors of the Great War. The Third Battle of Ypres was preceded by the successful attack on the Messines Ridge in June 1917. The main battle commenced on 31 July and stretched on until 10 November 1917, when the village of Passchendaele was captured. Many casualties are buried or commemorated in nearby Tyne Cot Cemetery. We highlight the experiences of two Surrey men.
Surrey Mirror, 11 December 1917: 'Another Honour for South Park'
As a key part of Surrey Heritage's Surrey in the Great War: A County Remembers project, volunteers are recording all First World War-related content from 12 contemporary Surrey newspapers. They have uncovered several stories about Surrey men who fought at Passchendaele, snippets from which appear on the Surrey in the Great War website.
One such story records that Mrs Vincent of South Park, Reigate, had been informed of the award of a second bravery medal to her 22-year-old son John. He had gone to New Zealand seven years previously and, when war broke out, had immediately joined the colonial forces. Prior to Passchendaele, John Vincent saw action in Egypt, Gallipoli and at the Somme where on 25 September 1916 he won the Military Medal. During 1917 he participated in battles at Messines, Ypres and later Passchendaele. On 12 October he won the Distinguished Conduct Medal whilst taking part in the most extraordinary series of incidents, which the Surrey Mirror article describes in detail. (Please click on the image to enlarge it.)
Testimony of R C Sherriff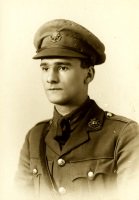 R C Sherriff, author of 'Journey's End', the greatest of all plays about the war, sustained wounds to his face, right arm, hand and leg during the opening phase of Passchendaele (2 August 1917) whilst serving with the East Surrey Regiment. He was hit by fragments of concrete when a shell smashed into a nearby pill-box. After overcoming his initial shock, Sherriff realised he was able to walk and managed to reach a dressing station unassisted. Sherriff's letters home can be viewed at Surrey History Centre. He felt well enough to send the following letter to his mother later the same day (SHC ref 2332/1/1/2/192), although the use of capital letters suggests he had to dictate it rather than write himself:
"Dear Mother,
I am writing to say that I am feeling quite well although I was wounded this morning in the right hand in the right side of the face[.] Nothing at all serious, dear, don[']t worry, I walked down alright, and I do not know if I will get home yet: I am going down to the base this evening I think.
I am very lucky, I think to get off so very lightly, considering what some of my men got & I have just changed into clean clothes & had a good tea and feel most happy and comfortable to be out of it – when my hand is better I will write you further…"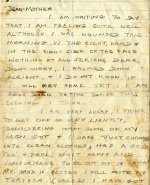 Within a few days of being injured, Sherriff had arrived at Netley Royal Victoria Military Hospital in Hampshire. His wounds appeared to heal well and after a few weeks, he was declared fit to return to service. However, because of an outbreak of boils on areas of his body in which he had been wounded, Sherriff was sent from Netley to St Thomas's Hospital in London for treatment. He seems to have remained at St Thomas's until October 1917. Following his recovery he was attached to the 3rd Battalion, the East Surrey Regiment at Grand Shaft Barracks, Dover, and never returned to active service in France. He died in 1975.
To discover more about Surrey's Passchendaele, please visit the Surrey in the Great War website.
Available on the website is an index to 36,000 Surrey newspaper articles covering a wide range of wartime themes.
For more information on how to search the newspaper indexes and where to view digital copies of the actual newspapers, visit the Surrey in the Great War website.
DVDs of digital images of some of the Surrey newspapers are held at Surrey History Centre, Redhill Library and Caterham Valley Library. Other titles are available via the British Newspaper Archive (free to use at Surrey History Centre and all Surrey Libraries):
To read more about R C Sherriff at Passchendaele see: