In 2012, we had the opportunity to make a digital copy of the splendid diaries of Elizabeth Davis (1765-1825). These were written while she was living as housekeeper to her widowed brother-in-law, John Sparkes (1753-1804), and her six nieces and nephews at Gosden House, Shalford, between 1793 and 1800. The diaries (SHC ref Z/588) provide a wonderful insight into the social, economic and religious life of an upper middle-class family in late-eighteenth century England and are packed with detail of meals consumed, clothes bought, games played, illnesses endured, and church services attended.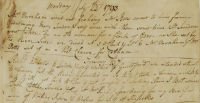 The following references provide some colourful detail of the gastronomic delicacies that are typical throughout the diaries, the reference from June 1795 perhaps highlighting the result of such consumption:
Dec 25 (1793): I got up earlier than usual & made 5 thumping plum puddings. I went to Bramley Church in the afternoon & called in at White House.
June 12 (1794): [At a dinner party given by Mr. R. Sparkes] At top a fine turbot, turtle soup, at bottom 3 chicken, a ham & a stand of sillabubs, in the middle & pigeon pie, etc., etc. a fine couple of duck & peas, quarters of lamb, rice pudding, tarts & custards of all sorts, strawberries & almonds & raisins as a desert … I had a bad headache all the afternoon.
Oct 5 (1794): [At Mr. Mellersh's] Our dinner was 4 fowls, a ham, rump of beef, a goose, hare, apple pie & trifle, a dessert of grapes, nuts of all sorts & apples &c. &c. I walked back with Mr. Randell & so fast that I was quite ill for a while … Soon after we got home we sat down to a hare & a duck for supper.
June 6 (1795): Mr. Gibson … carried me through some dirty places in the lane. I believe he found me a sufficient burden.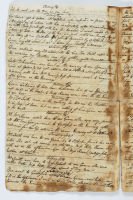 Further entries also demonstrate that Elizabeth's daily routine was far from a continuous life of leisure:
Dec 30 (1793): I … got to Cobham by 4. Found my dear Fanny [Elizabeth's sister] in bed & very ill indeed. I took her up a jam puff & preserved currant with 2 rice pies. She could not eat either.
Jan 7 (1795): Mr. Pace called. I was sorry I could not see him but I was very busy salting a large hog & ironing besides from morning till 10 o'clock when we made a finish.
Jan 19 (1795): Nothing sent here but a rotten sheep's liver for Mr. Sparkes's inspection.
Jan 30 (1795): Killed a hog, a very nice one. Mrs. London & Mary dined here and left me soon after dinner taking some hot elder pop before their departure.
Elizabeth Davis's diary entries provide an intimate picture of household life in Surrey in an era known so well through the novels of Jane Austen. Their vivid depiction of daily routine, with both its light-hearted and darker moments, exemplifies how valuable diaries can be to researchers, offering a unique personal glimpse into a world, a glimpse that is not readily available in other sources.