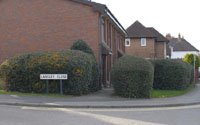 With the England football team about to compete in the 2014 FIFA World Cup in Brazil, in June 2014 we celebrated the career of the England left back and Guildford City legend Ernest James 'Jim' Langley. Whilst his club career is better known for time spent with Brighton and Hove Albion, Fulham and finally Queen's Park Rangers (where he ended his playing career by winning the League Cup in 1967), he first established himself as a professional footballer with Guildford City FC.
With undoubted ability from an early age, Jim started playing schoolboy football and then non league as a teenager in his native London. Joining First Division Brentford in 1946, aged 17, he was quickly rejected as being too small (5ft 9ins and 11½ stone) and was forced to look for another club. However, Jim was called up for National Service and whilst in the army was scouted and subsequently signed for non league Guildford City in 1947.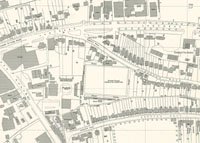 The first Guildford football club was formed in 1877 and was known as the 'Pinks'. With the success of football, a new professional club was established in late 1920, called Guildford United. They were subsequently accepted into the Southern League in 1921, playing at the Joseph's Road football ground. In 1927, with the creation of Guildford Diocese and with it the building of a new Cathedral, it was expected that the town would attain city status. With this in mind, the club's name was changed to Guildford City and new club colours of red and white stripes were adopted. While Guildford never did attain city status, the new name was kept.
After a season playing with the side as an amateur, Langley turned professional in 1949. He soon established himself as a commanding left back. Lean and mobile, Langley was famous for his long throws and his aerial ability, for which he earned the nickname 'India-rubber Man'. His career at Guildford City coincided with a revival in the club's fortunes, helping them record 3 top 10 finishes in 1950-52. There were also some memorable cup games during this period, with a notable FA Cup 2nd round tie away to Gateshead in December 1951, when an estimated 5,000 City supporters made the long and difficult journey to the North East. In front of a crowd of 15,000 people, City dominated the game but went out of the Cup, losing 2-0.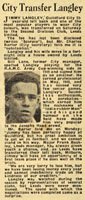 Unfortunately, whilst good attendances were often a feature of the cup games, City struggled to gain the necessary support for league matches and by the summer of 1952 the club was heavily in debt. Given their financial straits, Guildford agreed to sell Langley, their prized asset to Leeds United, for a substantial amount, in June 1952. Such was Jim's legacy at Guildford that when the football ground was later knocked down and housing built in its place, a Langley Close was created on the site in his honour.
Although Langley's career as a full England international was a short one (he won just 3 senior caps in 1958, aged 29), this was just recognition for such a popular footballer. A further honour came on the 6 February 1965, the day before his 36th birthday, when he played for Fulham, away to Stoke City, in the last ever league appearance of the legendary Stoke and England outside right Sir Stanley Matthews. Aged 50, Matthews had selected this fixture to bow out and therefore chose Langley, the Fulham left back, to be his final league opponent. Unfortunately, for Jim this memorable day was spoiled slightly by a 3–1 defeat.
A great professional throughout his long career, Langley played with boundless enthusiasm and commitment, whilst always competing with a strong sense of fair play. In Jim Langley's obituary in The Guardian, 5 February 2008, the renowned football columnist Brian Glanville said of Langley that he "...may be regarded as the pioneer of the overlapping full-back...". In our age of the rampaging wing/full back, considered such an important part of the modern game, this is high praise indeed.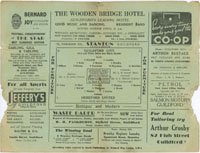 Surrey History Centre holds a variety of material relating to Guildford City Football Club, including programmes and photographs [1947]-1973 (SHC ref 8495/-). We also hold an earlier programme from 1934 (SHC ref 7956/2/6), a match ticket from 1936 (SHC ref 1274/21/50), and a programme for the Grand Gala Week at the Guildford City football ground 3-9 July 1938 (SHC ref 1274/10/11), as well as official club handbooks 1968-1971 (SHC ref 7309/File3). In addition to local newspaper articles, we also hold books and pamphlets in our local studies collection, relating to Guildford City FC, the Southern League and other Surrey based football teams.
Images
Select image to view a larger version.
Langley Close, Guildford, on the site of the old football ground
Section from 1-2500 OS Plan SU9850-9950, 1963
Surrey Advertiser, 18 June 1952
Guildford City Football Club programme 8 March 1952 (SHC ref 8495/1/3)