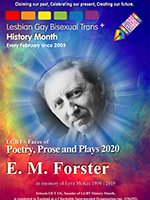 Every February in the UK since 2005, LGBT+ History Month has celebrated the lives and achievements of the Lesbian, Gay, Bi and Trans community. The campaign provides an opportunity to discover Surrey's LGBT+ past and celebrate its present and future - this hidden history can reveal some surprising and inspiring stories. Find about more about the campaign at the LGBT+ History Month website.
The national theme for LGBT+ History Month 2020 was Poetry, Prose and Plays, marking the 50th anniversary of the death of gay author, E M Forster (1879-1970).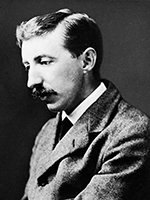 Forster is widely regarded as one of the greatest British writers of the 20th century and saw success with his six novels, all of which were written in Surrey: 'Where Angels Fear to Tread' (1905); 'The Longest Journey' (1907); 'A Room With A View' (1908); 'Howard's End' (1910); 'Maurice' (1913); and 'A Passage To India' (1924). 'Maurice' is a gay love story and reflected Forster's own – then illegal – homosexuality. However, he never publicly acknowledged this and left instructions that the novel was not to be published until after his death (1971). Although Forster made a large donation to the Homosexual Law Reform Society in the 1960s and occasionally wrote articles advocating reform, he has come under criticism for not openly admitting he was gay, even after partial decriminalisation in 1967.
Forster lived in Surrey for over 40 years – firstly at 'Harnham', 19 Monument Green, Weybridge, from 1905 to 1924, and then at West Hackhurst (a house designed by his architect father) in Abinger Hammer, from 1924 to 1946. Property deeds at Surrey History Centre show that Forster also owned four acres of land in Shere known as Piney Copse, formerly part of Netley Estate (SHC ref 328/1). Forster adored the Surrey Hills and, in 'A Room with a View', he used Holmbury St Mary as the inspiration for Summer Street, the home of Lucy Honeychurch.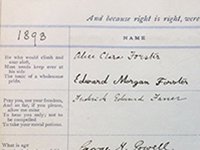 The papers of Lord Thomas Cecil Farrer, of Abinger, held at Surrey History Centre, reveal that he and Forster were good friends. The visitor book for Abinger Hall, Farrer's home, is signed by Forster and his mother, Alice Clara, who stayed there from 22 to 24 April 1893. Forster comments: "Went to Leith Hill for a picnic. Enjoyed myself immensely" (SHC ref 2572/142/1). On the same page are entries for members of the Vaughan Williams and Wedgwood families, present during the Forsters' visit. Forster also wrote to Farrer on a number of occasions, including on the subject of Galileo's house in Florence, 18 Oct 1903 (SHC ref 2572/1/52), and on the death of his beloved aunt Laura in June 1924 (SHC ref 2572/1/84). The two men enjoyed walks together and Forster relished the invitation to use Farrer's comprehensive library (SHC ref 2572/1/86). In April 1937, Forster alludes to an incident where his friend, the fellow Cambridge alumni, writer and poet, E K ('Francis') Bennett, suffered a dog-bite, presumably whilst walking with him and Farrer (SHC ref 2572/1/97). Forster's presence in Abinger has always been of interest to researchers, and a file in the papers of Farrer's daughter Frances contains correspondence with Forster scholars, concerning his time at West Hackhurst (SHC ref 9609/5/1/1).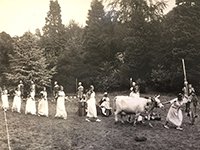 Forster embraced a number of local literary activities including writing scripts for two local pageants. Abinger Pageant was performed in 1934, held in the grounds of Abinger Old Rectory, with proceeds going to St James' church. The Abinger Hammer Women's Institute scrapbook of 1949 features a wonderful photograph of a scene from Abinger Pageant showing knights on guard as maidens, all dressed in white, drag an unwilling cow across the meadow! (SHC ref 7744/1). The second pageant, England's Pleasant Land, was held in the idyllic setting of Milton Court, Westcott, in 1938 and was reportedly interrupted by rain. Both pageants were collaborations with the Dorking composer, Sir Ralph Vaughan-Williams. England's Pleasant Land was performed in aid of the Dorking and Leith Hill Preservation Society, of which Forster was a supporter (SHC ref 8062/3/2). An essay, 'Abinger Harvest', published in 1936, was also written to celebrate the village, of which he commented "Left to itself there is no safer place in England than Abinger."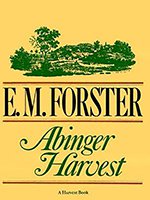 Our foyer display in February 2020 celebrated Forster's life, sexuality, and Surrey connections, including his great friend and confidante, the poet and author J R Ackerley (who fought with the 9th Battalion, The East Surrey Regiment during the First World War), and his one-time lover, author and policeman, Harry Daley of Dorking. You could also discover more about the prolific and witty Surrey author, Beverley Nichols, who lived in Ashtead and had a passion for gardens and cats.
Discover more about the life of E M Forster in Surrey .
You can find out more about our LGBT+ collections and case studies on our Exploring Surrey's Past website.
If you have information relating to the history of LGBT+ people in Surrey, or relevant material to add to the library and archive collections, we would be delighted to hear from you.
'Oscar - A Life'
'Oscar - A Life', a talk by Matthew Sturgis, for Surrey History Trust, took place on Saturday 15 February 2020 to celebrate LGBT+ History Month. Matthew discussed his acclaimed biography of Oscar Wilde, and Wilde's links with Surrey.
Images
Photograph of E M Forster, nd (courtesy of Nicola Beauman)
Visitor book for Abinger Hall, the home of Lord T C Farrer, signed by E M Forster and his mother, Alice Clara (SHC ref 2572/142/1)
Photograph of a scene from Abinger Pageant, 1934 (SHC ref 7744/1)
Front cover of E M Forster's Abinger Harvest, 1936 (SHC Local Studies Library Collection)