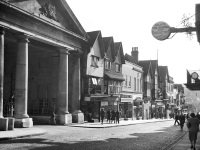 A highlight for people visiting Surrey History Centre is uncovering records that reveal detailed information about their research subject. When these entries are accompanied by photographs, the researcher may quite possibly whoop with delight! We recently came across a Guildford Rural District Council Air Raid Precautions (ARP) and Civil Defence personnel identity register, August 1940 to August 1943, (SHC ref 7532/1), which is just such a valuable document.
It will be no surprise to discover that this is a register which records the issue of identity cards during the Second World War. However, it is the quantity of information that it contains which is a boon for the researcher. In addition to the reference number and the national registration identity number, the entries also give the name and address of the holder, their date and place of birth and many other details such as their height, eye and hair colour and visible and distinguishing marks. It includes their ARP or civil defence job title (if appropriate) and, in many cases, photographs of individuals, the date they were certified and by whom they were certified (although these are only included up to April 1943).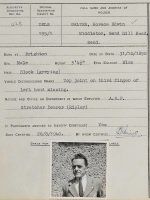 One of the most interesting aspects of the register is the number of women that were employed in civil defence as first aiders, administrators, ambulance drivers, general drivers and so much more. Of course, these jobs were not all reserved for women but many of the men were older and probably past the age of conscription into the armed forces. Every entry gives a starting point for a story – a journey into the lives of those on the front line of Home Defence.
For example, reference number 428 in the identity register belongs to Horace Edwin Walter who was born in Brighton on 31 October 1890. Under 'visible distinguishing marks' it states that 'the top joint on third finger of left hand missing'. Did he lose this digit in the First World War? Further investigation shows that Horace Edwin Walter appears on the 1939 Register with his wife Annie and their son Stanley. He was working as an Asphalt Mixing Foreman and it remarks that this is heavy work. He wasn't a tall man (only 5 feet 4 inches) but obviously a strong one. The identity register tells us that he was an ARP warden and stretcher bearer so he was probably used to lifting. According to pension records indexes on Ancestry.com, he did serve in the First World War in the Royal Army Service Corps (service numbers T/360146, M/344505). The England & Wales, National Probate Calendar (Index of Wills and Administrations) states that Horace died on 2 July 1953 in Surrey.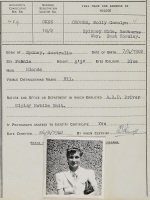 It was surprising to find that not everyone in the register was from the Home Counties. Molly Carolyn Crooks (reference number 429) was born in Sydney, Australia, on 7 April 1902 and (according to the register) volunteered as an ARP Driver for the Ripley Mobile Unit. Her photograph shows a very glamorous woman dressed in the height of fashion. The 1939 Register lists her living in Kent with her husband Alan Crooks (a Chief Accounts Manager). We may not know what brought them to Guildford; perhaps Alan was transferred to a branch of his office there. However, we do know that their lives were touched with tragedy as their son Andrew Aird Crooks was killed on 12 August 1943 while serving on HMS Saunders By this time the couple had moved to Devon, although further research suggests that the marriage may not have lasted as, in 1950, Molly travelled alone to Australia, dying in Brisbane, Queensland, in 1970. Her husband Alan died in Cyprus in 1971.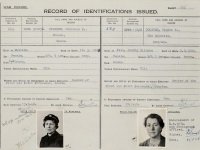 These are just two of the 540 pages of fascinating stories in the identity register. We also hold two other registers for June to August 1940 and for August 1943 to February 1945 (SHC refs 2196/25/1 and 2196/25/2). So, who knows what other stories we can find about these brave men and women who not only juggled their jobs and home life but gave up their spare time to help the war effort. Their stories are certainly worth telling.
Images
Select image to view a larger version.
Guildford High Street, 28 Jul 1944. The Guildhall clock was replaced by advertising during the war period (SHC ref CC1101/3/72/632).
Entry from personnel identity register for Horace Edwin Walter (SHC ref 7532/1 page 218)
Entry from personnel identity register for Molly Carolyn Crooks (SHC ref 7532/1 page 218)
Entries from personnel identity register for Florence E Forrest and Violet E Bolster (SHC ref 7532/1 page 285)