The Surrey History Centre holds the regimental archives of the Queen's Royal Surrey Regiment, the Queen's Royal West Surrey Regiment and the East Surrey Regiment but, as well as these formal records generated by the regiments themselves, we also hold personal papers deposited by former soldiers or their families. These records can prove immensely useful for fleshing out the details of service of a particular battalion and are especially valuable for those battalions raised for war service and disbanded shortly after for which official records may be limited.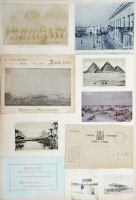 One such battalion is the 2/4th battalion, the Queen's. The 2/4th was the only Surrey battalion to take part in the Gallipoli campaign of 1915 and then served in Egypt in 1916 and Palestine in 1917. In June 1918, the battalion sailed for France and, after the Armistice, was sent across the Rhine into Germany and disbanded there in October 1919. As the official history notes, 'Few units, and certainly no second-line unit, had a more varied service or a more distinguished career in the war than the 2/4th'. However, the official regimental records comprise only a war diary, newspaper cutting, two photographs, a published report by the Dardanelles Commission, and journals and newsletters of the Old Comrades Association. There is however among the personal papers, a rather wonderful scrapbook compiled by Corporal Leonard Merrow-Smith (SHC ref QRWS/30/MERR/1).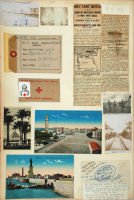 Leonard William Merrow-Smith was born in Woking in 1897, later moving to Merrow. Like many soldiers of the 2/4th battalion he originally joined the 5th battalion, a territorial unit, in March 1914. After mobilisation in August, he served first at home, but, in May 1915, foreign service volunteers from the 5th battalion were transferred to the 2/4th battalion and in July Leonard embarked for Gallipoli, via Gibraltar, Malta, Alexandria and Mudros, landing at Suvla Bay on 7 August. Quite an experience for a 17 year old! He was evacuated out in November with frozen feet after a catastrophic storm and later received a gunshot wound in Palestine and suffered an attack of dysentery in France, but Leonard survived the war and was demobbed in March 1919. He rejoined the Queen's for a seven-year term in 1921 before entering the Prison Service. In later life he was chairman of the battalion's Old Comrades Association and he died in 1965 aged 67.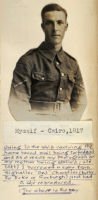 His scrapbook is packed full of photographs, newspaper cuttings, paintings and drawings, souvenir cards, pressed flowers, postcards and Leonard's own letters and telegrams home. One example is a newspaper clipping of a letter that Leonard himself sent to the Surrey Mirror which described meeting his father on a beach at Gallipoli. At the time he wasn't even aware his father had joined up, let alone was also in Gallipoli! Also included are published articles and photographs relating to the campaigns and to the places where Leonard and the 2/4th Battalion served, and the final third of the scrapbook contains photographs and papers relating to the Old Comrades' Association. Probably most importantly, the book also contains a detailed typescript account of Leonard's experiences in the Great War. The scrapbook as a whole serves as a generously illustrated history of the 2/4th battalion from its beginnings in 1915 to September 1918, when Leonard was invalided home with dysentery, and is a valuable addition to the records we hold for this short-lived battalion.