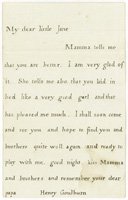 Henry Goulburn was prominent in national political circles and an intimate friend of the great Conservative politician Sir Robert Peel, twice prime minister. Goulburn entered Parliament in 1808 and first served in Spencer Perceval's government as under-secretary for the home department. He later served as Chancellor of the Exchequer in Wellington's administration (1828-30), and then as Home Secretary in Peel's first cabinet (1834-35), returning to the Exchequer when his friend again came to power (1841-46).
In 1811 Goulburn married Jane Montagu, third daughter of Matthew 4th Lord Rokeby, by whom he had four children, Henry, Edward, Frederick and Jane. He bought Betchworth House as his country seat which is why the Goulburn papers are held at Surrey History Centre (SHC ref 304). They contain his personal and political correspondence, and his letters to his youngest child, Jane, are surprisingly affectionate.
"My dear little girl, I thank you for your nice letter and for the kiss you sent me."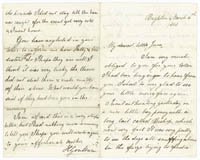 Goulburn, though a prominent statesman, was frequently described by his peers as being reticent and reserved. However, the letters he writes to 'dearest little Jane' clearly express the affection he felt for his daughter and show a less restrained and more affable side of this great man of politics:
"I shall soon come and see you and hope to find you and brothers quite well again and ready to play with me."
The letters reveal a comfortingly familiar family scene, with the hardworking parent absent on business regaling his beloved daughter with stories he has heard on his travels and promising gifts and affection on his return:
"Mamma, Harry and I send you more kisses than we can count."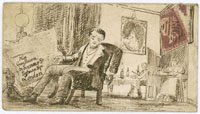 He is not the cold, distant and forbidding father figure one may have expected from a man who worked his way up to become one of the most important men in the country and friends with some of the most influential men in British history. Instead he is a caring and involved father, interested in the homely daily details his children have to report to him and encouraging them in their education and pursuits:
"My dear Jane, I was very much pleased with your letter which was very well written and when I come home I shall give you as many kisses as there are words in it."
His playfulness and eloquently expressed affection for little Jane are a touching testament to the universal bonds that stand at the centre of family life and the letters form a moving legacy of a great man and a great father:
"Goodnight, dear Jane, says your dear Papa."
Images: Select image to view a larger version.