Our conservators work diligently to treat and repair unique and delicate historical documents, such as these two manor court books. At some point in their history, the volumes had clearly been stored in damp conditions and had suffered terrible damage.
The two volumes record the proceedings of the court baron and the view of frankpledge or court leet that between them ran the manor of East Betchworth, and span the years 1697 to 1728 and 1742 to 1787. They are packed with wonderful information about the regulation of local life, the appointment of local officers and the transmission of the plots of land that made up the manor, information that is now accessible for the first time for many years. They form part of a much larger set of records of the manor which stretch all the way back to 1300, when John de Warenne, earl of Surrey, was the lord of the manor. They came into our care as part of the archives of the Goulburn family of Betchworth House (SHC ref 304/-); Henry Goulburn (1784-1856), a Tory politician who ended his political career as Sir Robert Peel's Chancellor of the Exchequer, bought the Betchworth estate and the manor in 1816.
Conservator Jeff Dowse explains his approach to the treatment of the court books: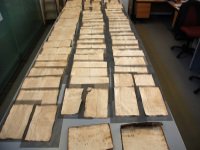 These two volumes were identified as a priority because of their poor condition, historical significance and potentially high level of use. It was immediately obvious that there was extensive mould damage. The harsh environmental conditions endured by the books had resulted in warped boards and broken sewing. The paper was brittle in some places, soft and fluffy in others! The first volume had twenty gatherings of various sizes of laid paper with some single pieces, whilst the second volume had 31 gatherings of uniform laid paper.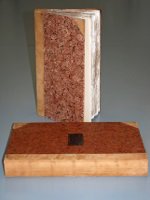 pH readings were taken and tests undertaken on the inks which were found to be stable. All pages were in need of treatment and both books required new cover boards and covering material. All paper was removed from the books and cleaned then washed and resized. The pages were repaired and strengthened with Kawanaka and Kozu Shi Japanese tissues. The repaired sections of the first volume were then sewn with linen thread onto new parchment slips. The sections of the second volume were also sewn with linen thread but back on to new double cords. Both volumes were attached to new milled boards, with reversed calf leather used on the spines and corners. Spanish marbled paper sides completed the covering.
Importantly, these volumes have now been stabilised and rebuilt to avoid any further harm or deterioration. A unique piece of history is available to the public both now and in the future.
See Conservation Section for more information about Surrey History Centre's conservation work.
Please click on the images to see more detail.