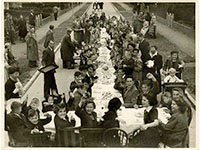 However you are planning to spend the extra bank holiday weekend this month, it surely won't have escaped your notice that the Coronation of King Charles III is almost upon us! Perhaps you are planning to be glued to the television screen on Saturday 6 May to watch the ceremony and all its pageantry; to take part in a local street party or fete; to spend time with friends and family; or to take the opportunity of the Monday Holiday to have a weekend away or a day out somewhere. Whatever your plans, we thought we would take this opportunity to focus on some local photographs that look back to the Coronation of Charles III's mother, Elizabeth II, in June 1953.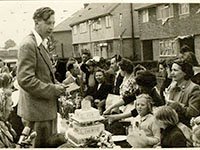 Quite fortuitously, we were approached earlier this year by Elisabeth McAllister, a former resident of Ford Road, Old Woking, who was the tender age of two at the time of the 1953 Coronation. Elisabeth was looking for a home for a bundle of photographs of her road's Coronation street party given to her many years ago by Mrs Blake, another resident of the road who, with her husband and others, had organised the event (reference 10475). Given the celebratory atmosphere, which is so clearly evident in the delighted, smiling faces in the photographs, we felt it was a very fitting time to shine a light on these wonderful photographic memories of the last time the nation came together to celebrate the Coronation of its new monarch.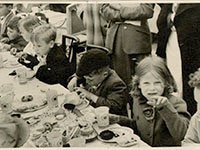 Ford Road was a fairly new road at the time, its houses not having been built until after the Second World War, and it was a joy to hear Elisabeth bring the photographs to life, naming all of the people her mother had identified for her and relaying anecdotes about each person. Mr Blake, a Londoner, can be seen in the photographs in a suit, standing on a box over the busy party tables clearly making a speech to the attending children, with their parents, relatives and neighbours around them, while a lady cuts a very impressive celebration cake. Mrs Blake can also be seen in a suit with a clipboard which, according to Elisabeth, sums her up perfectly as she was a very efficient, proactive organiser. Mr Blake was also an excellent organiser, and the couple were involved in the building of the Old Woking Community Centre in the early 1960s.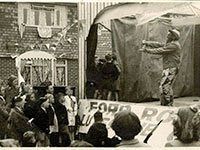 It is fascinating and rather poignant that, despite food rationing (which didn't completely end until 1954), the organisers still managed to source a seemingly wide array of foods for the children to enjoy. The party tea was topped off with the most amazing wedding-style cake, and was made by a Mrs Gibbs who apparently made a lot of wedding cakes and dresses. The organisers even managed to source special Coronation paper cups! It is clear from the photographs that everyone had pulled together to ensure that this once or twice in a lifetime event was suitably marked. A number of children can also be seen wearing homemade rosettes.
The photographs also show that a homemade stage was constructed on the grass outside some of the houses and that Mr Hayward, a local man, took to the stage to play the spoons to entertain the children. It is impossible to imagine the children of today being entertained by such an entertainer - how times have changed!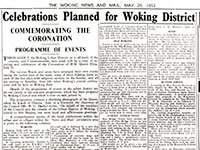 One final interesting observation is the rather international diversity of residents that lived in the road at the time – Elisabeth's mother was Dutch, one lady on the road was German and another lady was Maltese.
Since the deposit of these records, one of Elisabeth's old neighbours, Ann Whatmore (née Dean), who also appears in the photographs as an older child, has helped identify a good number of the people that feature. These identifications have helped to enhance the photographs' historical value so please do get in touch if you recognise anyone. In the meantime, we hope you will enjoy looking at these photographs as much as we have.
Images
Select image to view a larger version.