A celebration of the Diamond Jubilee of Queen Elizabeth II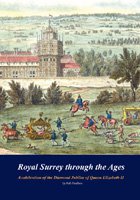 Surrey was first mentioned in the late seventh century, and ever since it has had close connections with kings and queens. Sometimes monarchs have lived in the County, more often they have visited either to enjoy its amenities or to provide leadership and support in times of crisis.
This book explores and celebrates the many facets of the relationship between royalty and Surrey.
By Rob Poulton
Produced by Surrey County Archaeological Unit for Surrey Heritage and Surrey County Council
20 pages, 44 illustrations
Price £5 plus £3.50 postage and packing for UK deliveries
Available from the Surrey Heritage online shop or from Surrey History Centre, 130 Goldsworth Road, Woking, Surrey GU21 6ND. Please pay by Visa/Mastercard/Debit card or make cheques payable to "Surrey County Council". If you are contacting us from outside the UK, please let us know your country of origin as changes in VAT legislation may affect the services we can provide.