The evocative and often controversial subject of school meals is the theme of this Marvel of the Month. School dinners are deeply embedded in the national psyche and it is a topic that provokes lively discussion and fond reminiscences.
The history of the school meal dates back to the mid 19th century but it wasn't until the 1944 Education Act that school meal provision, with legal nutritional requirements, was made compulsory for local authorities.
Surrey County Council took its responsibility for providing meals to the pupils of Surrey schools very seriously; its 1947 School Meals Regulations stated that 'The School Meals Service can now properly be said to form an integral part of the educational system and represents a very considerable item of expenditure in the annual estimates of the Education Committee'.
A primary aim of the School Meals Regulations was to equip all new schools with a separate kitchen and adequate dining accommodation, and this objective was achieved by 1956. The majority of existing schools were already so equipped, but some schools were still provided with meals which were transported in insulated containers and served in school halls, hired premises or, in some cases, in classrooms.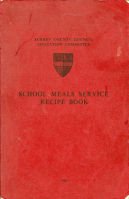 The 1975 SCC General Reference Book shows how the School Meals Service had expanded over the years. In 1941 the number of meals provided daily in schools was approximately 16,000; by 1975 the service was capable of providing more than 120,000 meals per day. The cost to the parent had also increased over the years from 4d per meal in 1942 to 15p in 1975. It now costs £2 per meal.
The School Meals Service Recipe Book for 1956 (SHC ref CC1116/1) contains recipes familiar to many including corned beef in batter, Manchester tart and semolina. The recipes are arranged by type of food and give quantities required to serve 100 senior pupils. Roast dinners were a firm favourite and, in the 1950s, the meat ration was 1½oz per child (160lbs of roast meat provided 800 portions).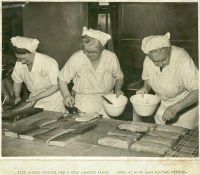 In accordance with the 1944 Act, nutrition was carefully thought out, but the odd treat was allowed as this photograph of cooks icing industrial quantities of iced sponge pudding shows!
Surrey History Centre holds some letters written by pupils at St Peter's First School, Tandridge, to their local central kitchen lamenting its closure. The letters demonstrate the pupils' fondness for school dinners with the children listing their favourites (as well as their least favourites!). Jam tart, chocolate semolina and blancmange appeared to be the preferred puddings. One child wrote, 'We thank you for cooking our dinners. We enjoyed most of them very much. One dinner that I don't like is liver'.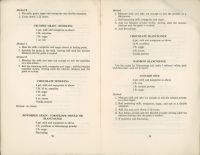 The 1980 Education Act had a major effect upon school meals by abolishing the minimum nutritional standards for school meals, and removing the statutory obligation to provide meals other than to children of families who were eligible for free school meals. Instead, local authorities were obliged to open up provision of school meals to competitive tender. This was intended to reduce the cost of local-authority-provided school meals, but resulted in an enormous drop in the standard of food being fed to children. The Medical Research Council conducted a survey in 1999 which suggested that, despite rationing, children in 1950 had healthier diets than their counterparts in the 1990s, with more nutrients and lower levels of fat and sugar.
The situation is improving however with the first nutritional standards for school meals in 20 years being published in 2000, specifying that chips or other fried potatoes must not be served in primary schools more than three times a week and baked beans no more than once a week, while fresh fruit must be offered at least twice a week and fruit in a dessert daily.