Why preservation matters
A key element of our work is promoting and advising on the preservation of archival records to prolong their usable life by minimising any physical and chemical deterioration that may occur.
Prevention is often better than cure, and appropriate packaging of records will for the most part provide physical protection during handling and storage. At the same time, the design of any packaging material or storage system should enable safe access to and viewing of the archive. The packaging will also act as an effective barrier to harmful atmospheric pollution, light and fluctuating humidity and temperature levels if storage conditions are below standard.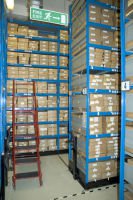 At Surrey History Centre, we ensure (and recommend to all owners of historical documents) that all packaging products - boxes, folders, photographic sleeves and tape - are of archival quality and therefore free from acids, chemical impurities, harmful adhesives and additives. It is worth noting that non-archival products can often actually cause or accelerate chemical and physical alterations to the archive including the fading of inks, colour loss, staining and in extreme cases complete structural break down.
And importantly, a stable environment will further reduce the risk of chemical and mechanical damage caused by harmful temperature and humidity fluctuations. We are extremely fortunate at Surrey History Centre to have secure, air-conditioned strongrooms in which records can be stored in the optimum conditions for their long term preservation.
More information can be found on the Conservation section of our website.