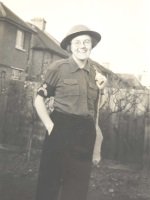 As the 70th anniversary of the beginning of the Second World War approaches (Hitler invaded Poland on 1 September 1939 and Britain and France declared war on Germany two days later) and in light of the fact that an unexploded bomb was found in May 2019 on a building site near Kingston University's Penrhyn Road campus opposite County Hall, it might be of interest to recall County Hall's experiences of bombing during 1939-1945.
County Hall in Kingston, the former headquarters of Surrey County Council, was constructed between 1891 and 1893 and was bombed not once but three times during the Second World War. A fascinating album compiled by Miss Winifred E Hutchings (1906-1977) of Neville Road, Kingston upon Thames gives details of the three bomb incidents with photographs of the resulting damage (SHC ref 4272/1). Miss Hutchings worked at County Hall as a shorthand typist from May 1935 and belonged to the Civil Defence (then ARP) Headquarters Group 9 Control Centre which was based there.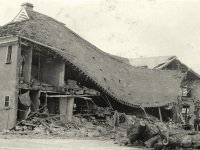 The first incident occurred on 30 September 1940 when a 250lb High Explosive (HE) bomb directly hit County Hall; fortunately there were no casualties.
Miss Hutchings was present on 10 October 1940, when another direct hit destroyed the County Hall canteen. The 1000lb HE bomb left three people dead and several injured. Luckily Miss Hutchings escaped unscathed but sadly her friend Marjorie Newman, who was on Civil Defence duty, was killed. The album includes a letter from Surrey County Council dated 22 October 1940, which Miss Hutchings received after the second bombing. F H Jones, Surrey County Council Chairman, writes: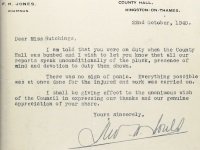 "I am told that you were on duty when the County Hall was bombed and I wish to let you know that all our reports speak unconditionally of the pluck, presence of mind and devotion to duty then shown.
There was no sign of panic. Everything possible was at once done for the injured and work was carried on.
I shall be giving effect to the unanimous wish of the Council in expressing our thanks and our genuine appreciation of your share."
The third incident occurred on 6 July 1944 when a flying bomb caused severe blast damage to the building. There were three slight casualties and again Miss Hutchings escaped injury. War damage to the building was repaired between 1945 and 1950, although shrapnel marks can still be seen in the stonework. The Ashcombe block, which was demolished by the 1944 bomb, was rebuilt in 1953.
Images
Photograph of Miss Winifred E Hutchings of Kingston in Civil Defence uniform, c.1939-1940 (SHC ref 4272/1)
Photograph of bomb damage at County Hall, 10 Oct 1940 (SHC ref 4272/1)
Letter to Miss Winifred Hutchings of Kingston from Surrey County Council after the bombing of County Hall, Oct 1940 (SHC ref 4272/1)