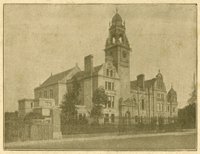 November 2013 marked the 120th anniversary of the opening of County Hall. Prior to its move to Kingston, the County Council had been based in the sessions house at Newington, near the Elephant and Castle, built for the county's Court of Quarter Sessions in the 1790s. With the creation of the County of London in 1889, Newington now lay outside the area administered by the new Surrey County Council and so a different site was sought for a new County Hall and courthouse in 1890. After a period of deliberation that included the option to remain in London, convenient for many of the members who pursued their business interests and professions in the city, a decision was made on the 15 April 1890 to locate the council headquarters within the administrative county of Surrey, at Kingston.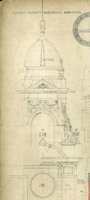 The site selected for the building was a two-acre plot that faced Grove Road (later renamed Penrhyn Road in honour of the first chairman of the council). The land, part of the Woodbines Estate, was purchased from Mr C F Jemmett for £4,000. The architect of the building was Charles Henry Howell, the County Surveyor for Surrey and partner in a private firm of surveyors Howell and Brooks. He is also notable for having designed the Brookwood and Cane Hill lunatic asylums, as well as police stations and bridges within the county. The construction of the new County Hall was undertaken between 1891 and 1893 by the company Higgs and Hill, who won the building contract with a tender of £41,964.
An imposing building, the new County Hall was officially opened on 13 November 1893, with viewings by invitation between 2 and 5 o'clock. A band played on the day and guests were given a grand tour of the building, which ranged from visits to the court and prisoners' cells to the splendours of the council chamber and great hall. The next day, following lunch as guests of the Mayor and Corporation of Kingston, Surrey County Council met for the first time in County Hall.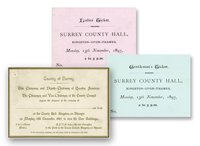 The building, which is now Grade II listed, is the former headquarters of Surrey County Council. From 1965 with the establishment of the Greater London Council and the London Borough of Kingston, County Hall was actually located outside the county's administrative boundaries.
Surrey History Centre holds a variety of material relating to the design, construction and opening of County Hall, including building plans, dated 1890 (SHC ref CC741/1/-), examples of the original invitations used for the official opening of the building on 13 November 1893 (SHC ref CC228/2/1), a photograph entitled First Surrey County Council, 1889 (SHC ref 2525/1), as well as historical maps, photographs and newspaper articles.
We also hold many other items relating to the history of County Hall, including, most surprisingly, pieces of shrapnel from a bomb that damaged the building during the Second World War (SHC ref MUS/15).