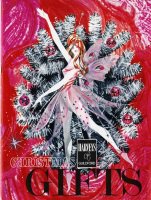 We in our modern world are used to public holidays. Christmas, in particular, we think of as being a week long jamboree of indulgence and good cheer, with a soundtrack of tinny carols over the supermarket sound system and the merry tinkle of cash registers.
Yet, not so very long ago, a 'day off' was a luxury in itself and public holidays were practically unknown. For many people, Christmas morning was just another working day, and it was only in the afternoon that they were allowed a few hours' rest. Shops were open - presumably for people to do their last-minute Christmas shopping - and many offices too. Anyone who has ever read A Christmas Carol will be able to picture the kind of conditions under which most working people had to survive. Yet, despite all this, our great grandparents still managed to enjoy themselves and cheerfully made the best of things because this was the world that they knew.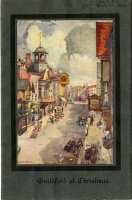 Christmas could often be a doubly joyous occasion since weddings often took place on this day, as recorded in many of the marriage registers held at Surrey History Centre.
Christmas shopping, though, is hardly a modern phenomenon, and Prince Albert's enthusiastic importation of the German celebration of Christmas was a gift from heaven for all those Victorian entrepreneurs. Shops would vie with each other to put on a magnificent show of their Christmas fare and the advertising industry, by no means a new phenomenon even then, went into festive overdrive to produce colourful and eye catching handbills, catalogues and magazine articles. There is, as they say, nothing new under the sun!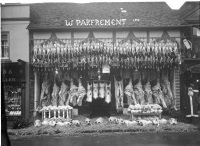 Featured here is a selection of such advertisements and illustrations of Christmas past from the collections held here at Surrey History Centre. They date from the early 20th century up to the 1970s and show how fashions and manners changed over the century between.
Take a look at film footage of 1922 Christmas shopping in Godalming.
Images
Select image to view a larger version.
Harveys catalogue, c.1970 (SHC ref 658.87p LOC)
Guildford at Christmas booklet, 1927 (SHC ref 658.87p LOC)
Parfrement's butchers in Godalming at Christmas, 1920s (SHC ref 9524/3/1/268)