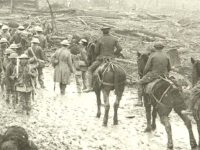 Amongst the records of the East Surrey Regiment held at Surrey History Centre are two manuscript registers of the non-commissioned officers (NCOs) and other ranks serving with the 1st Battalion during the First World War (SHC ref ESR/2/3/29-30). They cover the period c.1916 to 1919 and include men who had joined the unit earlier and were still serving with it when the registers were compiled.
Each register is compiled in alphabetical order and lists relevant information about an individual's time with the battalion. A typical entry gives a man's name, rank and regimental number; when he joined the unit and the company to which he was initially assigned. The company is noted numerically 1-4 and corresponds to the letters A-D (both of which are used to denote the companies in the war diaries at various times).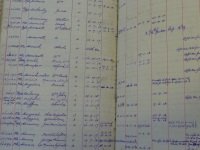 Other information in the registers may include promotions, courses attended and time spent in hospital due to wounds or illness. They may also give the reason why a man left the battalion, either through death, wounds, illness or being taken prisoner, transfer to another unit or being sent home for demobilisation.
The registers appear to have been compiled from information extracted from the unit's Battalion Part II Orders, January 1915 to December 1918 (SHC ref ESR/2/2/25). The orders appear to include men who were attached to the 1st Battalion for administrative purposes when posted to France and were subsequently posted elsewhere due to the current military situation.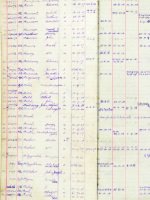 These documents, taken together, add texture to a man's time serving with the 1st Battalion, the East Surrey Regiment, during the First World War. With the loss of so many service records, due to enemy bombing during the Second World War, these snippets of information may be the only evidence of a soldier's time in the trenches. All of these records have been indexed, and the indexes can be found on the Surrey History Centre website.
Discover more about the Surrey In The Great War project (supported by the Heritage Lottery Fund).
Images
Select image to view a larger version.
Photograph album, '1st Battalion, 1910-1914', compiled by Lieutenant Colonel H F Stoneham, 1909-1925: a column of troops passing through an undamaged [French or Belgian] village past 2 steam engines or tractors; a column of troops standing easy in wet boggy country near the Front (SHC ref ESR/25/STONHF/1 p33)
Register recording number; rank; name; company and date of joining. Other information for each soldier may include: date of hospitalisation; date of 'C.C.S'; date rejoined; date to England; date missing; date taken prisoner; date killed; appointments and promotions; remarks. Alphabetical, c.1916-1919 (SHC ref ESR/2/3/29)
Register recording number; rank; name; company and date of joining. Other information for each soldier may include: date of hospitalisation; date wounded; date of 'C.C.S'; date rejoined; date to England; date missing; date killed; remarks. Alphabetical, c.1917-1919 (SHC ref ESR/2/3/30)
Photograph album, '1st Battalion, 1910-1914', compiled by Lieutenant Colonel H F Stoneham, 1909-1925: horse drawn transport passing through sodden country; a column of horse drawn transport passing behind heavy artillery pieces [manned by Anzac troops?] (SHC ref ESR/25/STONHF/1 p34)