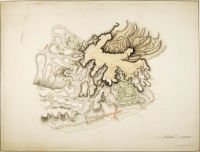 Before 1799 there was no formal military educational training available for officers in the British Army other than the Royal Military Academy (RMA) at Woolwich for officers of the Royal Artillery and Royal Engineers. Army commissions for the Regiments and the General Staff were obtained through preferment and purchase, and promotion depended as much on the influence of family and friends as on talent. It was the poor performance of the General Staff in some crucial campaigns of the eighteenth century that inspired one officer in particular, Captain John Gaspard Le Marchant, to advocate the establishment of a formal military training academy.
Le Marchant had joined the army in 1783 and, after seeing action against Revolutionary France, had published a series of instruction manuals which were adopted as official regimental manuals. Their success encouraged him to lobby for improved training and he was backed by the influential French Royalist émigré commander General Jarry, who had formerly commanded the Prussian cadet school, set up by Frederick the Great. Le Marchant's proposal was for the establishment of four departments: a cadet school, a junior and senior officer college and a college for non-commissioned officers.
In May 1799 Le Marchant and General Jarry opened a school at High Wycombe for the training of Staff officers and appointed several civilian teachers including Isaac Dalby as Mathematics professor. Dalby who had assisted General Roy with the trigonometrical survey to connect the London and Paris meridians from 1787 to 1790 and worked on the first trigonometrical survey of England and Wales was to train the students in map making and land surveying. Despite strong opposition to their scheme, a Royal Warrant inaugurating a Royal Military College was issued on 24 June 1801 which approved the expenditure of £146,000 on suitable buildings to be erected at Sandhurst on Bagshot Heath. Le Marchant was appointed Lieutenant-Governor and General Jarry, Inspector-General of Instruction. In 1802 a Junior Department was also inaugurated and remained in temporary accommodation at Great Marlow until 1812 when the first buildings were completed at Sandhurst.
Due to the distance between the two sites, the Board recommended to the Treasury that a building in Farnham be purchased as a temporary home for the Senior Department. £3850 was spent on refurbishing the selected building in West Street on the site of what is still called College Gardens and the first intake of 30 officers arrived at Farnham in 1813. John Hassell's painting of 1822 (after the college's closure and removal to Sandhurst) does not suggest a grand structure and although it is not thought to have been demolished for a further half century, it is not easily identified on the 1842 tithe map.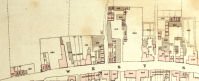 The new Commandant and Superintendent-General of Instruction of the college at Farnham was Major-General Sir Howard Douglas. In 1795 as a lieutenant aged only 19, he had been shipwrecked while in charge of a draft for Canada, and had over-wintered with his men on the Labrador coast, winning popular fame for his immense fortitude and leadership. At Farnham, Douglas concentrated on the teaching of surveying, fortification and bridging and used the surrounding heathlands for practical reconnaissance, engineering and surveying. The proficiency in these skills was increasingly valued and as the war against Napoleon intensified the student officers were in high demand. One of those who fought at Waterloo was Mark Beaufoy, a Captain of the Coldstream Guards, who was responsible for the undated topographical map displayed, which was presumably produced as a student assignment at this period. We hold another very similar map of Farnham, dated 1819, by a Lieutenant John Hart.
By 1820 the building at Sandhurst was ready and the Senior Department with Major-General Douglas left their temporary accommodation in Farnham. Isaac Dalby retired from teaching and was buried at St Andrew's Church in 1824. The college at Farnham, although in the town for a relatively short time, was the foundation of the internationally respected tradition of officer training at The Royal Military College at Sandhurst.
Images
Map to show contours of land to north and west of Farnham by Mark Beaufoy, lieutenant and captain in the Coldstream Guards, c.1790 (SHC ref 4257/6)
Section of tithe map showing Farnham town, c.1839