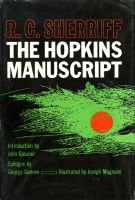 Robert Cedric Sherriff whose first play, Journey's End, about life in the trenches in 1918 remains one of the most enduring works of literature to emerge from the First World War, was a prolific novelist, playwright and screenwriter. He was born in Hampton Wick, Middlesex, and educated at Kingston Grammar School. From 1915 to 1918, he served as a captain in the 9th East Surrey Regiment, and was badly wounded at Ypres.
After the war he returned to work in insurance, gaining his first and most spectacular dramatic success with Journey's End, which opened at the Apollo in December 1928. During the 1930s, a number of further plays reached the West End, and Sherriff also worked on screenplays in England and in Hollywood.
Sherriff who never married, was devoted to his mother with whom he lived latterly at his Esher house, Rosebriars. He died in Kingston Hospital on 13 September 1975, bequeathing his papers to the Governors of Kingston Grammar School, and his home to Elmbridge Borough Council. His papers are now held at Surrey History Centre.
Published works by R C Sherriff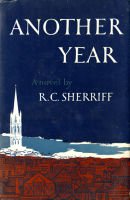 Whilst Sherriff is best known for Journey's End and his screenplays for the films, Dambusters, Goodbye Mr Chips and The Four Feathers, examples of his other plays and novels are held in our local studies collection.
Badgers Green (1930) was not well-received and led to speculation that R C Sherriff was a "one-play" man.
Home at Seven (1950) was first performed at Wyndham's Theatre in 1949 with Ralph Richardson in the role of David Preston, a bank clerk of regular habits who goes missing for twenty-four hours. In 1952 a film of this play was directed by Ralph Richardson who again played the role of David Preston.
The Hopkins Manuscript (1939, this edition 1963) was also published as The Cataclysm (1958). The novel tells of a post-apocalyptic earth devastated by a collision with the moon and an ordinary man's struggle to come to terms with ruined England. This novel is significant because it forms a developmental bridge between the novels of H G Wells those of John Wyndham and Brian Aldiss.
Another Year (1948) demonstrates Sherriff's interest in current social problems in this novel about a clergyman tempted by the devil to stay in his safe rural parish rather than taking on the challenges of a difficult parish in the London slums.