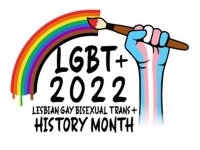 Every February in the UK, LGBT+ (Lesbian, Gay, Bi and Trans+) History Month celebrates the lives and achievements of the LGBTQ+ community. For Surrey Heritage, the campaign is an opportunity to discover and share Surrey's own LGBTQ+ past and celebrate its present and future.
LGBT+ History Month helps us bring local LGBTQ+ history to a wider audience, stimulating interest in a little-known area of the county's past, promoting further research, and encouraging records to be placed with us at Surrey History Centre. Whether famous or not, many LGBTQ+ people could not always live their true lives in public, hiding their sexuality or gender identity for fear of social stigma or criminalisation. Our collections help make these lives more visible and we believe that researching, celebrating and raising awareness of Surrey's LGBTQ+ history can help combat negativity.
Transgender history
Whilst Surrey undoubtedly has a wealth of LGBTQ+ history to explore, Transgender history (the 'T' in LGBTQ+ being people who presented differently to their birth sex, or transitioned), remains challenging for us to document. With the comparatively recent medical developments around transitioning it is not surprising that sources in the archives for this area of research are scarce. Medical records are closed for 100 years, and only in the last few years have local Trans people with a public profile published their memoirs, such as Juliet Jacques, a film maker and journalist who grew up in Horley and wrote 'Trans: a memoir' in 2015.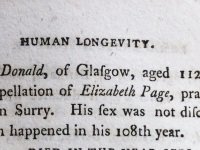 Historically, the press reported Trans stories with the derogatory tone of a freak show. Some of these stories turned out to be hoaxes but they were deemed popular to run and reissue on later occasions. For example, we hold the 'Gentleman's Magazine' (J/531) from the late eighteenth century and 'Granger's New and Complete Wonderful Museum and Magazine' from the early 19th century. Both record, in 1772 and 1808 respectively, 'The death of Elizabeth Page, at Streatham, reputedly a female physician, but found to be a man'. One source gives her age as 108 and the other as 112. Stories like this are difficult to corroborate.
Ellen May Young
Into the twentieth century, newspapers continued with stories of scandals involving men and women disguising their gender. In November 1946 the 'Surrey Advertiser' reported on "Peasmarsh Girl Sent For Trial: Alleged Male Poses For Wedding", whilst 'The Times' led with "Woman Alleged To Have "Married" A Woman". The 'alleged male' in question was Ellen May Young, a Surrey woman working as a factory paint sprayer, who had presented herself as a man named 'Allan' and allegedly tricked her bride, Irene Palmer, a domestic servant of Warwickshire. Ellen, known to her family as May, was committed for trial at Warwick Assizes and served six month's imprisonment. A cousin of May's, who supported her throughout her life and is now researching more about her relative, describes her as 'a lovely if troubled person' whose boyfriend was killed during the Second Word War. Suffering mental trauma became part of May's life and she was disowned by her family.
After prison, May worked as a gardener in Fulham and had a long-standing female partner. Further research will help us gain a better understanding of her life. When we come across more recent stories such as these we need to be truly sensitive about how we research and present them – they are within living memory and the people in question are someone's family. It is important to highlight their stories for a number of reasons, not least because more than simple trickery or masquerade is usually at play. Often it is the case that the person in question has experienced anguish and mental torment from desperately hiding their true self, and because of social stigma has desperately sought a solution rather than continue to live a lie. Arguably, working-class people like May had fewer options when it came to presenting their gender variance, whereas the mannish attire and appearance of someone like pageant master and actor Gwen Lally may have been more readily accepted as a theatrical and upper-class eccentricity.
Roberta Cowell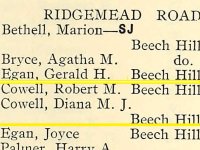 The history of Roberta Cowell (1918 to 2011), who lived and worked in Surrey and raced cars, is ground-breaking in that she was the UK's first Trans woman. Transitioning between 1948 and 1951, she too wrote an autobiography, 'Roberta Cowell's Story' (1954), a copy of which we hold in the library collections here at Surrey History Centre. It is brutally honest and frank but heartwarming. Roberta reveals how, as Robert Marshall Cowell, born into an upper middle-class family in Croydon in 1918, she became obsessed with engineering and racing cars. By 1939 she had competed in numerous races including many at Brooklands and the Antwerp Grand Prix. After serving in the RAF as a fighter pilot during the Second World War, the entrepreneurial Roberta worked in motor car and racing ventures in Chobham, Lightwater, Camberley and Egham. The electoral registers at Surrey History Centre capture Roberta in Englefield Green in 1947, living as Robert, with wife Diana.
What the official sources don't record is that Roberta's marriage had broken down at this time following the psychological trauma of wanting to live as a woman. But, in her own words, her autobiography recounts her long, complex but hopeful journey towards transition: "There seemed to be nothing to lose and a great deal to gain, both in future happiness and in scientific knowledge. Here was an opportunity for me to tread a path as yet untrod. Hopefully and fearfully I started down the path". Between 1948 and 1951 Roberta's gruelling surgery was completed by Sir Harold Gillies, a pioneering plastic surgeon who had worked on new techniques during the war. Legally renamed Roberta Cowell in May 1951, it was ironic that her change of gender made it impossible for her to continue Grand Prix motor racing which at that time was solely the preserve of men. However, she continued to be active in the sport and attracted publicity for winning Hill Climbs.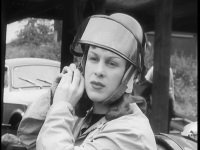 Roberta appeared on the front cover of 'The Picture Post' magazine in March 1954 following the publication of her autobiography. Despite this publicity she struggled financially and experienced ongoing discrimination. Roberta was also at odds with other transgender people over the nature of her transition which she believed was a purely genetic need arising from a rare chromosomal variation. The last years of Roberta's life were lived in seclusion and she died alone in London in 2011, aged 93; her obituary did not appear until two years later. Whilst we don't hold personal papers for Roberta, we do hold records such as electoral registers which can help flesh out the facts of her story. An excellent account of Roberta's life, including a podcast by Peer Productions youth arts group, can be seen on Egham Museum's website.
Discover what events took place for LGBT+ History Month 2022.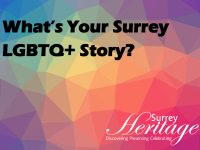 If you would like to add personal memoirs or other papers to the Surrey History Centre archives why not become part of What's your Surrey LGBTQ+ Story?
Images
Select image to view a larger version.
2022 LGBT+ History Month logo
Entry in 'Granger's New and Complete Wonderful Museum and Magazine', 1808 (SHC Library Collections)
Electoral register for Robert M Cowell and wife Diana, residing at Beech Hill, Ridgemead Road, Englefield Green, Chertsey Division, 1947 (CC802/58/2/1)
Roberta Cowell winning the Shelsley Walsh Hill Climb, Worcestershire, 1957 (courtesy of British Pathé)
What's your Surrey LGBTQ+ Story logo