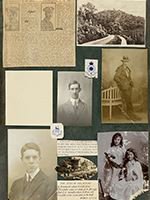 During Lockdown, Surrey History Centre was contacted by the Sidney Museum in Sidney, British Columbia, Canada, about two wonderful scrapbooks of collected photographs, news cuttings, illustrations and ephemera relating to the Hoole family of Reigate. The scrapbooks had been donated to the museum by the family of Sidney Walter Hoole (1890 to 1984) who had emigrated to Canada from England in 1919. The family had agreed that the scrapbooks should be donated to Surrey History Centre because of their connection with Reigate. The scrapbooks (Surrey History Centre reference 10225) provide a personal insight into the lives of a Surrey family in the early 20th century and are particularly poignant as two of the three Hoole brothers who fought in the First World War were killed in action.
The Hoole family actually had its roots in Shropshire and Worcestershire. Richard Alexander (known as Alexander) Hoole (1858 to 1896) was a farmer's son from High Hatton, near Shifnal. By 1890 he ran Lea Castle Farm, in Wolverley, near Kidderminster, and that same year, he married Lizzie Walter (1865 to 1949), the daughter of a commercial clerk, in Kensal Green, London. Although a Londoner, Lizzie appeared in the 1881 census as a pupil teacher living at the home of her uncle and aunt, Thomas and Charlotte Lewis, in Peplow, Shropshire. The fact that Thomas was a gamekeeper and Peplow's proximity to High Hatton may explain how Alexander Hoole and Lizzie Walter's paths crossed.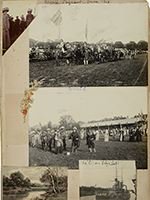 The connection with Reigate is Lizzie's paternal grandparents who resided for many years in Church Street. The 1871 census records 5 year old Lizzie was staying with Robert Walter, a 70 year old coachman, his wife Mary, a 75 year old laundress, and their daughter, 35 year old Emma, also a laundress. In fact the oldest scrapbook item is a small handwritten note which reads: 'I do hereby certify that the bearer of the note Lizzie Walter has been a very good and affectionate little girl and will always be welcomed in Reigate, by R Walter', with the added annotation, 'My Grandfather, 1867'.
Alexander and Lizzie Hoole had five children, their oldest being the aforementioned Sidney Walter born 1890. Their other children were Ronald Herbert (1892 to 1916), Leonard Alexander (1893 to 1916), Dorothy (Dorrie) Rosalie (1894 to 1949) and Lilian (Connie) Constance (1895 to 1979). However in March 1896, Alexander Hoole died at the untimely age of 37, and Lea Castle Farm was sold at auction the following year. The Hoole's move to Reigate is probably explained by Lizzie Hoole's filing for bankruptcy in 1909, with the 1911 census showing Lizzie and her four youngest children living at 9 Church Street, Reigate.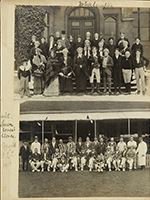 The scrapbooks were most likely commenced in the early 1900s: one (10225/1) is thought to have been compiled by Lizzie Hoole; the other (10225/2) appears to have been started by Leonard Hoole and continued by his mother. Both scrapbooks contain a variety of items, many of which are captioned: newspaper cuttings (including birth marriage and death notices, Great War casualties, obituaries and opinion pieces, and cricket match reports); handwritten and published poems; photographs of family and friends, the Hoole brothers with army and nursing comrades, and events such as the Reigate Pageant; picture postcards of Britain and overseas, with comments about past holidays; illustrations; greetings cards and programmes.
Leonard Hoole became a schoolteacher and possibly taught at Devonshire House Preparatory School in Reigate. Both Leonard and his brother Ronald were keen cricketers and played for Reigate Priory Cricket Club. Leonard enlisted with the Universities and Public Schools Brigade and, while serving as a Lance Corporal in the 20th Battalion, Royal Fusiliers (Public Schools), he was killed in action at High Wood, France, on 20 July 1916, aged 23.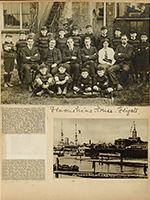 Ronald Hoole became a Fellow of the Surveyors' Institution (FSI) at the age of 22, and an Associate of the Auctioneers' and Estate Agents Institute. He was employed in the Land Valuation Department of the Inland Revenue when war broke out in 1914. He enlisted in the Queen's Westminster Rifles in September 1914 and was given a commission in the Queen's Royal (West Surrey) Regiment in May 1915, going abroad in Dec 1915. While serving as a 2nd Lieutenant in the 8th Battalion, Ronald was killed by a shell at Guillemont, France, on 21 August 1916, aged 24.
The eldest son Sidney Hoole was a keen footballer and was goalkeeper for Reigate Priory Football Club from 1910 to 1911. During the First World War, he served with the Machine Gun Corps and the Oxfordshire and Buckinghamshire Light Infantry, rising to the rank of Captain. He was injured but survived the war. In July 1919, Sidney emigrated to Canada, and the 1921 census records him as a tenant farmer on Salt Spring Island, British Columbia. Sidney married Agnes Gertrude Snow in Victoria, BC, in 1922. They had two children, and sadly their son Ronald was killed in action in 1944 while serving with the Canadian Army in France. Sidney Hoole died in 1984 in Saanich, British Columbia, aged 94.
At the time of the 1939 Register, Lizzie Hoole was living at 56 Warren Road, Reigate, with her two unmarried daughters, Dorothy and Lilian, and her sister, Mary. Lizzie died in 1949 in Reigate, aged 83.
The biographies of Ronald Hoole and Leonard Hoole have been researched by Redhill Centre for Local and Family History on the Surrey in the Great War website.
Images
Select image to view a larger version.
Page from Hoole family scrapbook showing photographs and newspaper obituaries of Ronald and Leonard Hoole (Surrey History Centre reference 10225/1)
Page from Hoole family scrapbook showing photographs of Reigate Pageant (Surrey History Centre reference 10225/1)
Page from Hoole family scrapbook showing photograph of Reigate Priory cricket team (Surrey History Centre reference 10225/2)
Page from Hoole family scrapbook showing photograph of Devonshire House Preparatory School teachers and pupils (Surrey History Centre reference 10225/2)