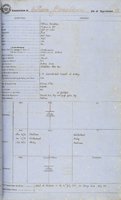 Tread soft on the stones that lie under your feet
And hark to the story they tell:
For they speak of a hero, who died in the street,
'Tis the spot where brave Donaldson fell
Before the establishment of Surrey Constabulary in 1851, policing in the county was carried out very much on the initiative of the parish or town. Fortunately, through the survival of the occurrence books of William Donaldson, Surrey History Centre has a record of the administration of local community policing in Dorking before the formation of the County Constabulary, detailing as they do the day-to-day activities of Superintendent Constable Donaldson and his two constables as they carried out their duties between 1838 and 1849.
There are three occurrence books in all, each one providing a wonderful insight into the misbehaviour, misdemeanours and petty crime of local characters in what was then a small provincial Surrey market town. One delightful entry at the beginning of the volume states: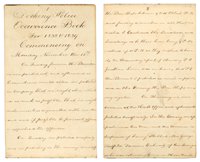 Thursday 27 Dec 1838: "I patrolled during the day and was very sorry, nay enraged to find that PC No 2 Jonathan Lewin had conducted himself very improperly by calling at a number of places for his Christmas Box, I was told by a lady not however as a complaint as she said that they had always been accustomed to give to the watch, but merely that she thought that I would like to know what he got." (SHC ref 9350/1)
William Donaldson was born in Alloa, Scotland, in 1807, marrying Janet Clement in 1835. He moved to London around the time of his marriage, before moving to Surrey. He can be found on the 1841 census living in South Street, Dorking. In 1851, Donaldson enrolled with the newly-formed Surrey Constabulary as an inspector and was stationed at Chobham. The 1851 census has the family living in Bridge Street, Leatherhead. Following a brief period of service in Horley, Donaldson was stationed in Haslemere by November 1854.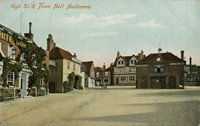 On Saturday 29 July 1855, Donaldson and his constable, James Freestone, checked on the King's Arms Public House in Haslemere to ensure the strict licensing hours were adhered to. The pub was full of 'navvies' who were working on the London to Portsmouth railway and who were celebrating with their fortnightly wages. Following the two policemen's encouragement to drink up and vacate the premises, a brawl ensued resulting in the arrest of David Smith who was duly locked up in the 'cage' in the town's Market House. When some of Smith's allies presented themselves demanding his release, a fight broke out and Inspector Donaldson was struck over the head with an iron bar. He managed, with help, to walk back to his house in Cow Street, but died of his injuries at 3 o'clock on Sunday morning.
He was buried in St Bartholomew's Church, Haslemere, and his funeral was attended by senior officers including four Divisional Superintendents and a column of thirty-two constables, all wearing ceremonial mourning sashes. 29 July 2015 marked the 160th anniversary of his death.
A biography entitled 'Inspector William Donaldson (1807-1855) – The First Surrey County Police Officer to be killed while on duty', by Henry F Pelham (2020), can be found in the Surrey History Centre library.
Images
Select image to view a larger version.
An entry for William Donaldson and the colleague he was on duty with the night he died, James Freestone, which can be found in the first appointment book for Surrey Constabulary (SHC ref 9152/1/2/1/1)
An extract from Dorking Police occurrence book, 12 Nov 1838 - 2 May 1841 (SHC ref 9350/1)
A postcard of the High Street and Town Hall, Haslemere, showing the King's Arms Public House, c.1905 (SHC ref PC/75/14)