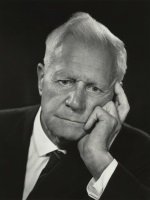 Between April 2015 and November 2016, Mrs Mary Stopes-Roe, eldest daughter of Barnes Wallis (and wife of Harry Stopes-Roe, the adopted son of contraception pioneer Marie Stopes), deposited with Surrey History Centre a quantity of documents relating to Sir Barnes and Lady Wallis (SHC ref 9456). Included in the deposit are a series of letters from Lady Wallis written between 1920 and 1979 to her childhood friend Mary Turner (later Morris), whose father had associations with the Vickers company, and who was a cousin of the composer William Walton (son of the singer Louisa Maria Turner).
Barnes Wallis had married his 'cousin-in-law', Mary - universally known as Molly - Bloxam, in April 1925. He had met her at a family tea party when she was just 17 and he twice her age at 34; her father initially forbade them from courting, but did allow Wallis to assist Molly with mathematics by correspondence, and they wrote some 250 letters, some of which have been published. From 1930, Barnes, Molly and their children lived at White Hill House in Effingham, Surrey.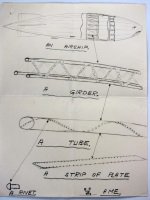 Barnes' inventions (or 'ventions', to coin his own name for them) are mentioned throughout Molly's letters to Mary:
his airship R100 of the 1920s. In a letter of 1925, Barnes included for Mary Turner a cartoon explanation of where a rivet fits into an airship girder; he also 'vented' the unique mooring device for the airship, Molly tells us, while staring at the curling wick of a candle;
the Dambusters raid of 1943 whose airmen lovingly called their mentor 'Papa Wally';
the bombing of the Tirpitz in 1944, and
the development of the Wellington bomber which caused consternation in Bookham on trial flights in 1940 with a large mine-detecting ring attached. All these are described along with Barnes' own lifelong love of boats and camping, and his surprising interest in collecting honey from his own bees. He was also an accomplished woodcarver, producing busts and statuettes of Molly, and he restored the clock of St Lawrence Church, Effingham (in whose churchyard they are both buried).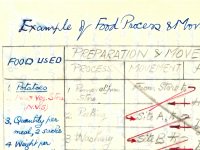 The letters reveal much about Barnes Wallis's life, as seen through the eyes of his wife Molly. In addition, from 1943 many are written on the back of Barnes' handwritten notes and diagrams (a wartime economy practice that Molly continued until his death in 1979) and the notes give a valuable insight into the mind of one of Britain's unique geniuses. Some of the most interesting are shown here, illustrating both his engineering projects and his private passions. He was also not above getting bored from time to time, as the occasional doodle shows, and he also liked to help Molly in the kitchen, at one time with a 'time and motion study' for the preparation of dinner!
A talk by Peter Rix, 'Barnes Wallis - One Man – Many Ideas. The Life and Work of Barnes Wallis, Engineer, Designer, Inventor, Teacher', was given at Surrey History Centre on Saturday 7 September 2019 with an accompanying foyer exhibition.
Images
Select image to view a larger version.
Photograph of Sir Barnes Wallis, 1967, by Godfrey Argent (Reproduced courtesy of the National Portrait Gallery, London - NPG x15123)
Cartoon of an airship, 1925 (SHC ref 9456/4/5/3 (16c))
Food process analysis, 1954 (SHC ref 9456/4/34/2 (3d))