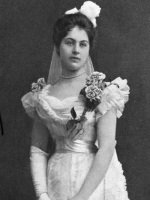 Lady Sybil Myra Caroline Grant (née Primrose) was the daughter of Lord Rosebery, the Liberal Prime Minister from 1894 to 1895, and Hannah de Rothschild. Born in 1879, she married Sir Charles Grant of the well-known Grant's whiskey family in 1903. On the death of her father in 1929, she inherited his estate at Epsom, The Durdans, and made it her home until her death on 25 February 1955.
Lady Sybil had a wide range of interests as a writer, ceramic designer, artist and successful breeder of horses and dogs. She also had a love of caravanning and was a strong supporter of Gypsies, being concerned for their welfare and helping to defend their tradition of camping on Epsom Downs during Derby week.
The Carolus Awards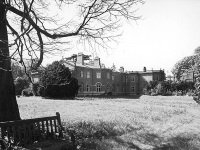 To help change public attitudes that Gypsies left sites in an untidy and unsanitary condition, Lady Sybil and her husband created the Carolus Awards in 1933. These awards of between 10s and £1 were presented to the three Gypsy families who left their camping ground in the best condition. The Surrey beneficiaries in 1933-1936 were William and Amy Hoadley of Purley, Walter Smith of Lingfield, Leonard Cooper of Guildford, Hiram Hoadley and Harry Simpson of Croydon and Walter Smith of Horley. The certificates from 1934 for Levi (of Sidcup) and Leonard Cooper can be found in the collections at Bourne Hall Museum, Ewell.
A report can be read in the 'Surrey Mirror and County Post', Friday 14 June 1935, a copy of which can be viewed on microfilm at Surrey History Centre.
Providing land for Gypsies in Derby week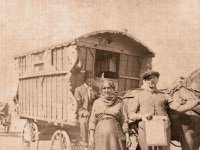 In 1937 a new set of by-laws, championed by local landowners, were passed prohibiting caravans on the Downs. Lady Sybil appealed without success to the Epsom and Walton Conservators for permission to be given for camps during Derby week. Her response was to provide a field on her own land which legally gave the Gypsies somewhere to stay but a peaceful occupation of the land did nothing to change the by-laws or encourage other landowners to follow her example.
A speech in support of Gypsies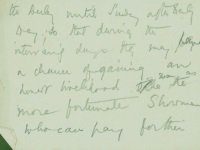 In the personal papers of Iris and James Wall of Epsom, we find notes written by Lady Sybil, most probably for a speech to be made at the meeting of the Epsom & Walton Downs Conservators in May 1938 when the Gypsies were forbidden to camp anywhere on the Downs in Derby week (SHC ref 6138/8(3)). She writes:
"I am doing my best to coax the Conservators not to enforce their new By-laws with regard to van dwellers in Derby week. With changed conditions they are not to be allowed upon the Downs during the rest of the year. But I earnestly hope for a compassionate... truce from Thursday before the Derby until Sunday after Derby Day so that during the intervening days they may have a chance of gaining an honest livelihood even as the more fortunate showmen who can pay for their camping ground and are protected by their excellent organisation."
Friend of the Gypsies
Lady Sybil Grant's kindness was not forgotten, and it is reported in 'The Western Morning News and Daily Gazette' in June 1938 that over 700 artificial flowers were made by the Epsom Gypsies to decorate Lady Sybil Grant's grandstand box 'whom they regard as a special friend'.
Based on research by Alan Wright for the Surrey History Centre.
Images
Select image to view a larger version.
Photograph of Sybil Primrose as a young woman, from "The Social Jester" 'The Sketch' (26 Sep 1900) https://commons.wikimedia.org/w/index.php?curid=65432821
Exterior view of The Durdans, Epsom, 15 May 1956 (SHC ref CC1101/3/58/262)
Photograph of Gypsies leaving Lady Sybil Grant's site, early 20th century (SHC ref 6035/1/18)
Speaking notes by Lady Sybil Grant in the Personal Papers of Iris and James Wall of Epsom, nd (SHC ref 6138/8(3))