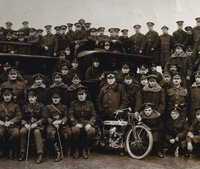 Henry Robert Stanley was born in Addlestone on 2 May 1886, to James Edward Stanley and Eliza Stanley (née Murhall). Nicknamed 'Harry', he was christened at St Paul's Church on 9 July 1886.
Before the outbreak of the First World War, Harry was employed as a bricklayer in the Addlestone area by a plumber named Mr Hannis. On 18 November 1906, aged 21, he married Elsie Kate Adams, aged 20, and they lived at Addlestone Hill, near Victory Park. Six months later, in May 1907, they celebrated the birth of their first child, Henry James (known as Jim). Jim was joined by a sister, Ellen Frances (Nell), in August 1909 and a brother, Albert, in July 1911.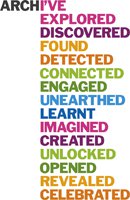 On the outbreak of war in 1914, Harry Stanley (now aged 29) joined the 'Watney Boys', named after Major Gordon Watney of the South Lodge Motor Works, Weybridge, who had been appointed by the War Office to form a Supply Column within the Mechanical Transport Army Service Corps (MTASC), Home Counties Division. Major Watney succeeded in enrolling over 250 men into his MTASC and turned part of his factory into a drill hall.
On 7 November 1914, the 'Watney Boys' marched to St James's church, Weybridge, for a farewell sermon before posting to Egypt and Salonika. Photographs of the unit's service around the Mediterranean were taken by William Topp, a fellow Watney Boy and future friend and neighbour of Private Stanley. William documented his personal adventure in a series of photograph albums which were later passed to Private Stanley's family.
By early 1915, Private Stanley found himself in Gallipoli, Turkey, where troops from Britain, her Empire (Australia, New Zealand, Newfoundland, India) and her French allies, fought in vain against the armies of the Ottoman Empire. Amid the rising casualty numbers, Surrey newspapers speculated on local men who had been killed in action. Private Stanley took the step of writing to the Surrey Herald to dispel rumours surrounding the deaths of his Weybridge friends, and his letter was published in the 16 July 1915 edition, under the headline "ALL'S WELL" WITH WATNEY'S MEN:
'...I am writing these few lines to let you know that the Weybridge lads out here (belonging to the corps which Major Watney raised) are all safe and well at present. We have seen in your paper that rumours have been in circulation concerning some of our deaths, but, up to the present, I am pleased to say, there is not a casualty among us. Immediately your paper arrives we soon gather round the recipient to hear the news of the old village. One paragraph we particularly noticed was that Sergeant Major Yates had written stating that all was well with the Column. I must tell you there are only thirty-five of us out here; they were picked out of the Supply Section. The remainder are 5 days' journey from here, and are no doubt all right. I am pleased to say that everything is going on splendidly out here. We get big shells over occasionally, and we have all managed to dodge them up to the present and I hope we shall continue to do so. There is one thing: our big guns give them all they ask for. Now I must close, with kind regards from all the boys. I remain, Yours obediently, H STANLEY.'
Given the horrors of Gallipoli, how much truth there is to Private Stanley's encouraging words remains to be discovered. To further reassure his family, he carved out three pieces of sandstone during quiet periods in Turkey which he sent back to his wife Elsie. The inscriptions he carved onto the stones are very touching, particularly 'My heart is with you tonight' on a heart-shaped stone.
In 1918, Private Stanley was wounded at Hill 60, south of Ypres, Belgium, when he broke his left leg and was hit by a shell in his right thigh. Hill 60 was a man-made feature, created by soil dug out from a nearby railway line in the 1880s; given the flat landscape surrounding it, it was of huge strategic importance for both the Allies and Germans. Records show that, on 29 April 1918, Private Stanley was treated at a hospital in Boulogne, France. By May he had been transferred to the military hospital in Endell Street, near Covent Garden, London. Private Stanley was still in hospital when the war ended and, in February 1919, he received his final treatment at the Dispersal Hospital in Brighton.
That same year, Harry Stanley formed a partnership with George Edward Garland as cycle agents at 13a High Street, Addlestone, riding bicycles around the local area to persuade the public to buy them. The partnership was dissolved on 12 April 1926 when Harry paid his former business partner £300 at the rate of £3 a week and continued to run the business alone: mending punctures, making up new wheels for clients and selling batteries for torches and bicycle lamps.
Harry died in 1958. His granddaughter Betty Gosling has kindly donated one of the albums into which his friend William Topp carefully pasted the photographs and newspaper clippings that document their First World War service (SHC ref SGW/1). The contents have been digitised to ensure their preservation, and some of the images are reproduced here.
Was your family in Surrey affected by the First World War? For more information about our Heritage Lottery Fund supported project, Surrey in the Great War: A County Remembers, please visit Surrey in the great war
Images
Select image to view a larger version.
Group photograph from album compiled by Private Topp, entitled 'Pictorial Record of my Services in the Great War 1914-1918. Part I'. The photographs are captioned by Private Topp, 1914-1918. (SHC ref SGW/1/1)
Carved sandstone sent by Private Stanley while in Turkey to his wife, Elsie.