John Senex's 'New map of the county of Surrey laid down from an actual survey' (SHC ref M/407), published in 1729, was the first of three new surveys of the county made in the 18th century, the others being by John Rocque (1768) and Joseph Lindley and William Crosley (1793).
In the eighteenth century most mapmakers started their careers as apprentices, primarily training as engravers but also as printers, goldsmiths and even clockmakers. During their seven year plus apprenticeship they might also learn how to use and make technical surveying instruments and how to transfer survey data using different meridians, projections and scales into the drawings, in preparation for engraving the copper plates used to print maps and to make globes. This expertise and knowledge flowed from master to apprentice and created a close-knit and inter-related community of expertise, primarily centred in London.
The career of John Senex
John Senex (1678-1740) was born in Ludlow, Shropshire, the son of John Senex, gentleman. He was apprenticed through the Stationers Company to the London bookseller Robert Clavell in 1695 and set up his own business in 1702, first in the Strand and then in Cornhill. Starting at the heart of the London trade immediately after election to the Guild suggests that he had some private wealth or significant support even at the beginning of his career.
Senex advertised himself as a 'bookseller, mapseller, instrument-seller, globemaker, engraver and surveyor' and immediately began publishing the newest scientific findings of the day. These included Edmond Halley's 'A synopsis of the astronomy of comets' in 1705 and later 'A description of the passage of the shadow of the moon over England as it was observed in 1715', for which Senex engraved the first printed solar eclipse map and produced 'smoak'd glasses' for observing the eclipse.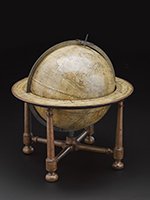 During his career Senex worked with many of the most prestigious names in the scientific and map publishing business including Jeremiah Seller (son of John Seller, who was responsible for the third survey of Surrey published in 1676). He was regarded as one of the most distinguished scientific publishers of his day, producing works by Sir Isaac Newton, Henry Wilson and Edmund Stone and was elected a Fellow of the Royal Society in 1728, at about the time he was planning or conducting the survey of Surrey. As well as publishing books he produced maps, globes and many atlases, working with Charles Price and later John Maxwell on 'The English Atlas' of 1714, the bulk of which he engraved himself. He also produced a portable version of the road maps of John Ogilby, published as 'An Actual Survey of All the Principal Roads of England and Wales' in 1719 and 'A New General Atlas' in 1721.
The Surrey survey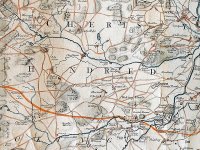 As a Royal Society member Senex would have read about and discussed with other members the latest developments in mathematics, geometry, astronomy and surveying techniques, but he also had practical experience of field work and had worked on several surveys himself. These included a survey of the Levels of Dagenham for the Commissioners of Sewers which he worked on with the surveyor Richard Cushee after floods in 1724.
He would have known the standard methods of surveying such as the traverse method, using chains and a basic theodolite of compass and tripod to measure the land, but also newer innovations such as Jonathan Sission's incorporation of a telescope onto a theodolite in 1725. This innovation might have inspired him to experiment with new ideas himself and it is possible that his undertaking of the Surrey survey was, at least in part, driven by his desire to test them out. It also reveals his interest in the then hot topic of debate - the relationship of meridians of longitude to time.
He therefore advertised the following 'new and novel' method:
"A ball of fire will be thrown up from the top of Box-Hill at half an hour past eight every evening for a fortnight; and rockets will be let off from proper eminences near Godalming, Chertsey and Westram [Westerham, Kent]; the first half a quarter of an hour after the ball, and the rest at a like interval from each other: whence such gentleman as are furnished with proper instruments, will have an opportunity of determining their own bearings".
It is not clear how successful these experiments were or if they resulted in new data for the survey which he conducted with Richard Cushee, but the resulting map was published in 1729. Cushee had been apprenticed to Charles Price in 1710 and worked alongside Emmanuel Bowen who later produced a fine map of Surrey based on Senex's data, 'An accurate Map of the County of Surrey…drawn from late surveys' (SHC ref M/178). He also worked with his brother-in-law William Wyeth to produce a map of Park Farm in Wotton belonging to Sir John Evelyn, published in 1733.
The Surrey map itself was a costly venture that Senex recorded 'wounded' him financially, and as with many other county surveys the upfront financial outlay was not repaid by the sales. He had advertised to raise subscriptions for the map but when it was first published the surround of heraldic shields were left mainly blank, indicating that the project had failed to attract much interest. Despite including new roads and much of local interest such as descriptions of industries and the estates and houses of the landed gentry and contemporary celebrities it could not compete with the interest in maps depicting the newly discovered lands of the Americas and of the Far East. Fortunately for present-day researchers the contemporary details on the map provide a useful picture of the county before the industrial revolution and the expansion of transport links into the county, as well as sometimes unexpected clues to long-forgotten places.
Sources
'The story of Surrey in maps: an exhibition arranged by the Surrey County Branch of The Royal Institution of Chartered Surveyors'. Kingston –upon-Thames, 1956
Chubb, Thomas, 'The printed maps in the atlases of Great Britain and Ireland 1579-1870'. Homeland Association, 1927
Worms, Laurence and Baynton-Williams, Ashley. 'British map engravers'. Rare Book Society, 2012
Images
Select image to view a larger version.
Twelve-inch terrestrial globe made by John Senex, Fleet Street, London, 1738 © The Board of Trustees of the Science Museum
Halley, E., & Senex, J. (1715). A description of the passage of the shadow of the moon over England as it was observed in the late total eclipse of the sun 22 April 1715 © The Trustees of the British Museum
Part of new map of the county of Surrey laid down from an actual survey by John Senex, 1729 (SHC ref M/407)