Within the collections at Surrey History Centre, we have many fine examples of personal and institutional bookplates which can help establish the history or provenance of a book. The earliest examples of the formal bookplate were produced in Germany in the fifteenth century but those in our collections date from the eighteenth to twentieth centuries. They range from the very simple printed name or entwined initials to elaborate coats of arms and individually commissioned works by contemporary artists. They can give fascinating insight into the history of ownership of books and the social status and, in some cases, the aspirations of their owners.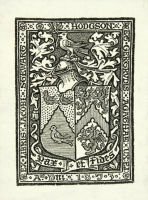 Reproduced here are a few examples from the nineteenth century.
One of our copies of C T Cracklow's Lithographic Views of all the Churches and Chapels of Ease in the County of Surrey, 1823-26, has a bookplate on the front board that helps to establish the provenance of this volume (SHC ref 726.5). This volume came from the library of Gertrude Agatha, wife of James Stewart Hodgson of Lythe Hill, Haslemere.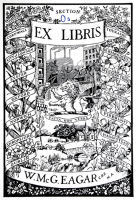 On the front board of a copy of the 1901 edition of Julia Cartwright's The Pilgrims' Way from Winchester to Canterbury (SHC ref 942.2) is the bookplate of the magnificently named Waldo McGillycuddy Eagar (1884-1966). Its design was the work of the artist Victor Coverley-Price (1901-1988) and it contains many biographical references to its owner. Waldo Eagar is largely remembered for his work in charting the origins and development of boys' clubs; he was Vice President of the National Association of Boys' Clubs, the London Federation of Boys' Clubs and the Surrey Association of Boys' Clubs. A copy of his book, Making Men: the History of Boys' Clubs and related Movements in Great Britain, 1953 is in our library (SHC ref 369.4). Eagar also had an interest in church architecture, publishing a history of Ewhurst Church in 1958, The Church of St Peter and St Paul, Ewhurst, Surrey (SHC ref 726.5). He lived at an equally distinctive address: Spange Hawe in Ewhurst.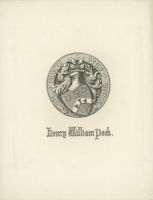 In our illustrations collections, we have Sir Henry William Peek's bookplate, an example of the heraldic style (SHC ref PX/46/4). Peek (1825-1898) was a colonial merchant, local MP and philanthropist who founded the Peek Institute in Cranleigh (in memory of Lady Peek), as well as financing the building of the school chapel at Cranleigh School.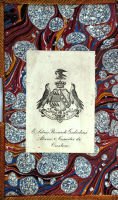 A final example of the heraldic type of bookplate is that of Richard William Alan Onslow, 5th Earl of Onslow (SHC ref G173/28/1-51). This plate is pasted on the front board of a very fine bound volume of letters addressed to William Hillier Onslow, 4th Earl of Onslow and to Lady Onslow.