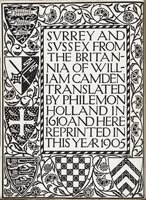 During the first half of twentieth century many private presses were established by individual publishers, stationers and artists throughout the country, following the principles of William Morris and those of the Kelmscott Press (established by Morris in 1891). The aim of such publishers was to produce beautiful, handcrafted books that were a pleasure to read and own, rather than to make financial profit. Surrey was no exception and, during the early twentieth century, Astolat Press, Reigate Press and Selwyn Dunn's Kelmscot Studio were established. At Surrey History Centre, we have many examples of books from these private presses in our collections.
A C Curtis was a Guildford stationer who had a retail business at 144a High Street. Like many stationers, he was also a publisher specialising in picture postcards and publications of local interest. These included William Hyde's A West Surrey sketch-book , with an introduction by Eric Parker, 1913; and H J Burkitt's The history of the Queen's (Royal West Surrey Regiment) in the form of a lantern lecture, 1917. A C Curtis also founded Astolat Press to publish works of poetry and other literature, so-named because, in Sir Thomas Mallory's Le Morte d'Arthur, the town of Astolat is identified as being Guildford.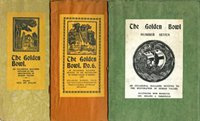 Some books produced by Astolat Press are held in our library collections including an edition of Geoffrey Chaucer's The prioresses [sic] tale: from the Canterbury tales, 1902; a tiny 1902 edition of the Rubaiyat of Omar Khayyam, translated into English verse by Edward Fitzgerald; some pocket sized editions of Elizabeth Barrett Browning's Sonnets, 1901, and William Shakespeare's Sonnets, 1902; Sir Thomas Mallory's The Story of Elaine the fair maid of Astolat and The book of Sir Galahad; and the second edition of Mary S Watts' The word in the pattern: a key to the symbols on the walls of the chapel at Compton, 1905.
The Reigate Press was established by William Bernard Adeney and John Madden at South Park, Reigate. In our library holdings are copies of Surrey & Sussex from the Britannia of William Camden, a reprint of the 6th edition, 1610, edited by Dr Philemon Holland, and published by the Reigate Press in 1905.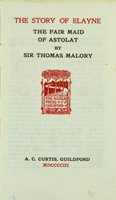 John Selwyn Dunn (1895-1978), the son of John Dunn, a Haslemere stationer, was deeply impressed by the work of William Morris, having met Morris at Kelmscott when he was very young. Selwyn Dunn later became a stationer as well as an artist/craftsman who produced decorated ceramics, paintings, linocuts and wood engravings. In 1927 he set up a small hand press at his studio at 'Kelmscott', 11 Dapdune Road, Guildford. It was here he printed The Golden Bowl, an occasional magazine devoted to the restoration of human values. The beautifully illustrated magazine was published with high-minded ideals which extolled the merits of restoring human values to modern life, art and thought. Its editor was E A Hay of 'Dene View', Bagshot Road, Knaphill, Woking. The Golden Bowl, numbers two to seven, 1927-1933, are held in the library collection at Surrey History Centre.
Images
Select image to view a larger version.
Surrey and Sussex from the Britannia of William Camden printed by William Bernard Adeney and John Madden
of the Reigate Press, 1905 (SHC Library Collection)
Front covers of The Golden Bowl, numbers 5-7, July 1930 to Winter 1931/2. Printed by J Selwyn Dunn (SHC Library Collection)
Title page showing the mark of Astolat Press
(SHC Library Collection)