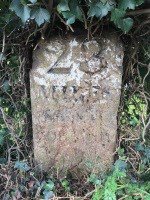 In a hedge on the west side of the A22 between South Godstone and Blindley Heath, stands a stumpy sandstone pillar, into the front of which is carved '23 miles from Cornhill'. The inscription identifies it as a milestone, one of 141 currently entered in the Surrey Historic Environment Record (HER) database. This particular example marked the stated distance from the Cornhill Standard in the City of London on the road between the capital and Eastbourne on the Sussex coast. The numbers and letters were picked out in black in contrast to the white paint that coated at least the top half of the stone; enough paint remains to suggest its original appearance.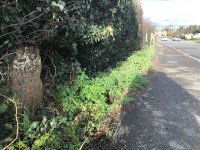 This milestone is well-known to the Surrey HER because it was one of the features studied as part of our recent historic landscape survey of the area of Lagham Park around South Godstone. It was already entered in the Surrey HER (Monument 16897) but is not listed by Historic England. Nor is it a large or especially beautifully-designed example, and its inscription provides no historically-significant information. So what makes it marvellous?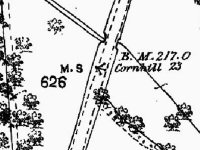 Many important routes across Surrey like the A22 were created or enhanced in the 18th and 19th centuries to facilitate longer-distance overland travel. The particular stretch of road on which this milestone stands was constructed around 1840, in effect as a bypass for Tilburstow Hill Road (originally a Roman road) south of Godstone, which was steep and so difficult for horse-drawn coaches to negotiate. New and improved roads required new infrastructure like bridges and causeways, as well as milestones to inform travellers of relevant distances. Most were created and maintained by turnpike trusts, bodies established by Acts of Parliament that collected tolls from road users – beside the A22 north of South Godstone is Paygate Wood, which remembers the 'pay gate' at which tolls were collected by the Godstone to Highgate Turnpike Trust. This milestone and others like it therefore mark not only the routes of former turnpike roads, but also stand for the measured survey work involved in their construction.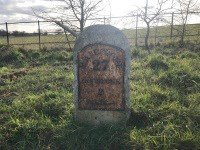 Surrey's milestones tend to survive as modest roadside monuments (a few have been relocated into gardens and such like), making them liable to damage, being moved, or most often neglect. But they are also features of the historic environment that are of interest to many people. In fact, after Second World War-era pillboxes, milestones are the type of monument the HER receives most enquiries about. If you know of one near where you live or work and are interested in finding out more or providing information about its history/present condition, please email the HER at HER@surreycc.gov.uk.
Update: In July 2021, the milestone between South Godstone and Blindley Heath was made a designated heritage asset (National Heritage List for England entry number 1472847) along with several others along the A22, a decision informed partly by this Marvel of the Month page.
Images
Select image to view a larger version.
The front of the milestone showing inscription and remnants of paint scheme (Surrey HER Monument 16897)
Looking north-east along Eastbourne Road towards South Godstone, following some careful pruning to make the milestone visible again after several years of being hidden in the hedge
The milestone and Eastbourne Road on the Ordnance Survey First Edition 25 Inch map of circa 1869 (Surrey sheet XXXV.7)
Milestone with a cast iron plate stating distances located near Tandridge on the A25 Oxted Road, the former Guildford to Maidstone road (Surrey HER Monument 16902)