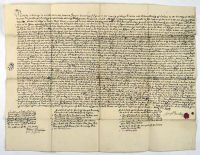 Inscribed over acres of creaking parchment, many deeds of marriage settlement suggest by their sheer massiveness the grand scale of the property involved, the estates gained over generations and the future wealth in the joining of landed families. Less common are settlements which provide for the futures of more ordinary people, artisans and others of the middling sort, who might bring with them only the acquisitions and responsibilities of their own lifetimes.
Here is the deed enacted before the marriage of Joseph Bunting, a weaver of Egham (and probably a widower), and Rebecca Moody, a widow of Staines, on 11 September 1712 (SHC ref 2642/14/28). In contrast with a thick wedge of bound parchment membranes with multiple seals and signatures, it is written on a single sheet of paper (although it is proudly noted that it is 'double six penny stamped paper'). However, it is testimony to the care taken by the couple, already past youth, as they join their established households and livelihoods.
Rebecca would be surrendering independence by becoming a wife again. As a widow she would have been entitled to continue her deceased husband's trade, manage her finances and any estates, and leave her own will. The deed is Joseph's undertaking of goodwill towards her, as he conveys his cottage, orchard and 2 acres at Hattersride, Egham, and four leasehold cottages to John Stephens of Stanwell, maltster, as his and Rebecca's trustee. Stephens is entrusted with the property to guarantee Rebecca an income from the rents, and the large sum of £80 to her heirs. We do not learn what assets Rebecca was able to bring to the marriage, although the very existence of the deed suggests that she had some to offer, to which Joseph is reciprocating. No plan is made for children from the marriage – a great preoccupation of the 'dynastic' marriage settlement: perhaps they did not expect any. The sum of £80 nevertheless offered security against the chance and protected the interest of Rebecca's existing dependents; her will (1723) and Joseph's (1725) show that a younger Rebecca Moody lived with them, probably a child at the time of the second marriage.
The couple bring to their marriage the accumulations of their past lives, as is shown by the inventories of their household goods at the foot of the deed. Both Rebecca and Joseph have two beds, although Rebecca has the advantage of a dozen chairs. Each, in addition to cookware, pewter and hearth furniture, has 'one alchimy spoon' apiece, which are delivered to the partners' trustee 'in the name of the whole'. 'Alchimy' was a compound, principally of brass, which had a gold appearance, the name recalling the ambition of the alchemist to create gold from base metals. The spoons' value for this couple is a symbolic one, representing the exchange, modest yet considerable, which they undertake in making their match.
Joseph and Rebecca were married at St Mary's, Staines, on 27 October 1712.