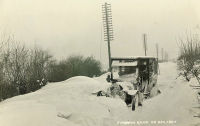 Here is something seasonal showing the excessively snowy conditions that occurred across Surrey in December 1927.
From our extensive illustrations collections, this postcard is a typical scene of the county a few days after Christmas when the snow inconvenienced rather less traffic on the roads than today.
The following article in the Surrey Advertiser, 31 December 1927, gives a perfect description of the weather conditions which gave rise to such heavy snowfall:
How Guildfordians spent Christmas
Christmas 1927 has come and gone and there remains only to be told the tale of its passing. It will be remembered in West Surrey, as in other parts of the country, as one marked by extraordinary variations of the weather. In the space of one week there had been experienced keen frosts, a sudden thaw, with a remarkably high temperature for the time of year, a day of fog and rain, a blizzard and deep snow. It is a tale of icy roads, widespread floods and snow drifts 10 and 15 feet deep in which motor vehicles have had to be abandoned. While the young and active may rejoice at the opportunities of sport the snow has presented, there is to be set on the other hand public inconvenience and even tragedy such as the death in the snow of an old man at Hurtwood.
Copies of the Surrey Advertiser from 1864 are available to view on microfilm in the search room at Surrey History Centre.
Image
Postcard of Farnham Road, Guildford, under several feet of snow with car trapped on road, 28 Dec 1927 (SHC ref PC/72/ALB6/44)