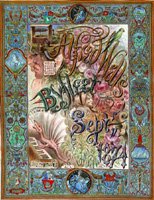 Among the many fascinating items in our archive holdings is a scrapbook of cuttings, illustrations and photographs relating to Surrey Industrial School, Byfleet, 1874-1884 (SHC ref 7556/3). Compiled by the school's superintendent, Alfred Wells, it gives a very personal representation of life inside and outside the school.
The Industrial Schools Act of 1857, which aimed to solve problems of juvenile delinquency, empowered magistrates to send vagrant children to residential industrial schools. Further legislation in 1861 extended this to any child brought before a magistrate for begging, vagrancy, destitution, frequenting the company of thieves, or for being refractory and out of control of their parents, and to any children under 12 charged with a punishable offence, but for whom training in an industrial school was a more appropriate sentence.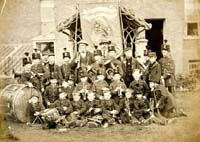 In 1871, the county magistrates persuaded John Leyland to move the existing Wandsworth Industrial School (which he had founded in 1867) to Byfleet. The school seems to have been run more on the lines of a contemporary private boarding establishment with Leyland as headmaster. Leyland appears to have been a man of some wealth which allowed him to buy a considerable area of land at 'Byfleet Corner', at the junction of the Old Woking and Parvis Roads. Here he built himself a modest villa, 'Rosemount' which stood on a square, man-made, terrace and, at the bottom of his garden, he built the large, institutional building of the Industrial School on Parvis Road.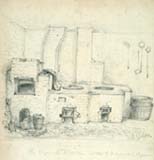 Alfred Wells (1852-1941), who was originally secretary at the school, became its superintendent in 1873. He kept scrapbooks into which he pasted a variety of items, many of them mementos of the school, as well as typically Victorian scraps and brightly coloured lithographic items, such as Christmas cards. This scrapbook was found in the attic of a house in Shrewsbury Road, Redhill, to which Alfred had retired and where he died, and was presented to Surrey History Centre in 2005 by Dr G. Moss, whose grandparents had subsequently occupied the house. The accompanying images reveal the variety of the scrapbook's contents:
The frontispiece of the scrapbook was painted by John Leighton FSA (1822-1912), a prolific book illustrator and designer
In common with other schools and similar institutions at the time, Byfleet Industrial School had its resident band. The band members, posed with their instruments, are in front of the school buildings, facing onto Parvis Road
A pencil sketch by E S Gibson of the 'original kitchen at the S.I.S.' which gives a decidedly Dickensian picture of life at the school
A young gentleman on his 'velocipede', unidentified, but possibly Alfred Wells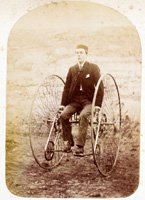 When John Leyland died in 1882, it was found that he had made no provision for the future of Byfleet Industrial School, so that it looked as if it might have to close. The magistrates took a lease on it in 1884. A year later, it was decided to move the school to Mayford and a site was purchased. The new Mayford County Industrial School was opened in 1887 and the Byfleet school closed, although the buildings lasted longer, still being marked on Ordnance Survey maps in the mid 1930s. The buildings of the Mayford Industrial School still exist, now housing the Mayford Centre.