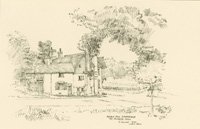 In the first half of the twentieth century there was a growing desire to preserve and record the architecture and countryside of the Home Counties, possibly before it disappeared for good. Many examples of these records can be found in the illustrations or photographic collections held at Surrey History Centre, such as the Photographic Survey and Record of Surrey (SHC ref 7828). In our local studies collections, we are fortunate to have copies of Arthur Keen's Sketches of Oxted and Limpsfield, parts 1-3 (1935-1937), containing his elegant drawings of 60 buildings, some of which have now been altered or are no longer standing.
Arthur Keen was an architect whose career began as Richard Norman Shaw's apprentice in 1877. During the 1880s he was assistant to Ernest Newton and others before establishing his own practice. He was elected a Fellow of the RIBA in 1904 and was on their council for 21 years, serving as honorary secretary from 1917 to 1919 and vice-president from 1927-1925. He was also an active member of the Architectural Association, serving as president from 1910 to 1911.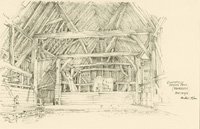 In the 1901 census, Keen and his wife Catherine were residing at 18 Weston Park, Hornsey, Middlesex; by 1911 they were living at 'Engadine' on Station Road East, Oxted, later moving to 'Snatts' in Limpsfield. During his career, Keen's work covered domestic buildings, factories, offices, schools and churches. His professional portfolio in Surrey included the Oxted and Limpsfield War Memorial Hospital and Limpsfield Village Hall. Of his domestic building projects, the following are held at Surrey History Centre:
SHC ref LA6/33/1550 plans of 'Holly Bank', Wonersh, 1922.
SHC ref 7350/1/3 typescript specification of works to be carried out at 'The Spinning Walk', Shere, for Dr G E Davidson, 1927.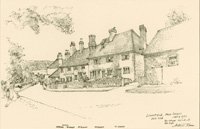 In London, Keen designed Baptist Church House, Southampton Row, for the Baptist Union of Great Britain and Ireland in 1901. This was damaged in the Second World War and now has a Grade II listing. Another of his major church designs, also for the Baptist Union, was the Byzantine style Baptist Church in Cricklewood, in 1908; this building is now known as Trinity Court. As chairman of the Thames Bridges Conference he wrote a report on the proposals for Charing Cross Bridge, published by Ernest Benn in 1930.
In 1932, some of the drawings later published in his Sketches of Oxted and Limpsfield, were exhibited at the RIBA. The Times newspaper of 12 November 1932 published the following: "It is evident that these drawings, which appear to constitute a complete record, have been a labour of love – not merely sentimental, but informed with an expert's knowledge of what is worth preserving."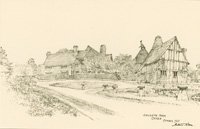 Keen was an active member of Surrey Archaeological Society and he bequeathed the collection of eighty-nine original drawings of buildings in Oxted and Limpsfield to the society. Correspondence regarding this bequest and a posthumous exhibition at Croydon Public Library in 1939, is held at Surrey History Centre (SHC ref SAS/6/3/14). Sixty of these drawings are beautifully reproduced in these three published portfolios. A review of the second portfolio published in The Times of 21 December 1936 states:"Most people would agree with Mr Keen's contention that similar records ought to be made in every parish that possesses old buildings of interest."
His obituary in The Times, 17 December 1938, reads: "Age and ill health had for some time caused his withdrawal from active practice, but his retirement was solaced by constant use of his pencil. He was a charming and accomplished draughtsman, and he devoted himself to the delineation of the beautiful and historic buildings near his home in Surrey."
Images
Select image to view a larger version.
Stocketts Farm, Oxted.
Cottages on Limpsfield High Street, the drawing is labelled with the names of the occupants in July 1931. The exteriors of the cottages have hardly altered since 1931.
Interior view of the barn at Grants Farm showing Arthur Keen's attention to detail in creating his visual record.
'The Plumbers' Arms' Pebble Hill, Limpsfield, sadly demolished, following road improvements in the 1960s and 70s.