The Photographic Survey and Record of Surrey was established in 1902, 'to preserve by permanent photographic process records of antiquities, anthropology, buildings of interest, portraits of notable persons, old documents, rare books, prints and maps, and scenery so as to give a comprehensive survey of what is valuable and representative in the County of Surrey'.
By 1914, 8,000 photographs were held at Croydon Library and exhibited around the country. Interest in the Survey began to decline during the 1930s and it ceased to exist as a Society in 1953. The collection of 10,000 photographs and 1,800 glass lantern slides remained at Croydon Library until the early 1980s when it was shared between Croydon Local Studies Collection and Surrey Local Studies Library in Guildford. The latter collection - covering the current administrative county of Surrey (ref 7828) and Gertrude Jekyll's photographs for Old West Surrey (ref 6521/2/2/1-322) - is now held at Surrey History Centre.
Deepdene House, Dorking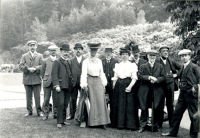 On 8 June 1907, members of the Photographic Survey and Record of Surrey visited Deepdene House near Dorking to photograph the house and grounds, with the permission of the owner, the Duchess of Marlborough.
The photograph of this formidable group was taken by J H Baldock, the Sectional Secretary of the Topography and Passing Events section of the Survey. Mr Baldock, who was also a member of the Croydon Historical and Scientific Society and a Fellow of the Royal Photographic Society, recorded that he took the photograph using a platinum coated glass half-plate at 2pm. Sadly for posterity, he failed to note the names of his fellow photographers (SHC ref 7828/2/53/21).