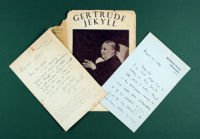 Gertrude Jekyll (1843 to 1932) of Munstead, Godalming, was one of the most well known garden designers of her time. Born in London, her family moved in 1848 to Bramley Park in Surrey and, except for a brief period (1868 to 1876) when the family moved to Berkshire, she lived all her life in the county. Life in rural Surrey made a lasting impression on Miss Jekyll, and her work and interests as a painter, gardener, photographer and writer are reflected in the collection held at Surrey History Centre.
In 1861 Miss Jekyll studied botanical drawing at the Kensington School of Art. Her travels to the continent, from her first trip in 1863, are recorded in her sketches and paintings of landscapes, plants and portraits of local people. Surrey History Centre holds two albums of paintings and sketches, recording visits to Italy, France, England, Scotland and Wales between the 1860s and 1872 (SHC ref 6521/1/1/-) and to Algiers in 1873 and 1874 (SHC ref 6521/1/2/-).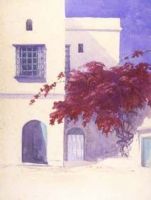 After the death of her father in 1876 Gertrude Jekyll returned to Surrey to live with her mother and brother at the newly built Munstead House at Godalming. Having worked as an interior designer while in Berkshire, Miss Jekyll's design skills and interest in plants were useful when she planned the layout of the gardens at Munstead. By the 1880s Gertrude Jekyll was writing for The Garden magazine.
Through her writing Miss Jekyll's fame spread, and she published 14 books on topics ranging from garden design to folk history. She had also developed an interest in photography, taking photographs in Surrey of her gardens, the countryside and the local architecture and people. "Old West Surrey" (1904) united Miss Jekyll's photographic skills with her love for the vernacular architecture and style of rural Surrey. Surrey History Centre holds the original manuscript, proofs, photographs and press reviews for "Old West Surrey" (SHC ref 6521/2/-). "Old West Surrey" has recently been reprinted by Phillimore & Co Ltd. Miss Jekyll's original photographs were digitised for this new edition.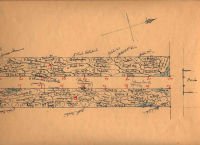 Gertrude Jekyll was also well known for her collaboration with the architect Edwin Lutyens. Together they planned the design of Miss Jekyll's new home Munstead Wood, and, in their evocation of the "Surrey Style" of domestic architecture set in Jekyll's gardens, they created some of the best examples of Arts and Crafts design. Orchards at Godalming, Goddards in Abinger and Tigbourne Court in Witley encapsulate their creative genius.
Miss Jekyll designed about 500 gardens during her lifetime, some of them in the United States of America, Germany and Ireland. She is buried in St John's churchyard at Busbridge.
For further information on Miss Jekyll see Gertrude Jekyll: the official website of the Jekyll Estate which includes the history of the Jekyll family, links and a bookshop.
With kind co-operation of the Jekyll Estate.
---
In this section