In 2022, we acquired, with the help of Surrey History Trust, a delightful album containing some watercolour views of houses, farms and scenes in the Dorking area (Surrey History Centre reference 10441/1). Many of the watercolours are signed on the page to which they are attached by the artist H White, but unfortunately we have not been able to identify who this might be.
The identified Surrey views comprise Shootlands Farm in 1846 in the parish of Wotton, with the small figure of a top hatted man on horseback approaching the entrance gate; the sand hills on the road from the Rookery in Westcott; a distant view of Dorking church from the sand hills; a view of Westcott looking towards Dorking, with houses and fields laid out on the slopes of the hills and beside the road; Balchins Farm at Westcott, partly hidden by a hedge, with barns beside it; Tillingbourne in 1847, showing a large house, surrounded by a high stone wall; the fountain shooting a jet of water from a pool in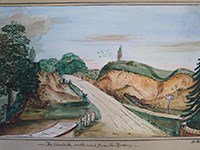 the grounds of Tillingbourne; a property called Tillingbourne Farm; a cottage with very tall chimneys at Westcott; and Tait's Cottage, dated 1846, with what may be a wooden covered well-head in front of it.
There are also watercolours of locations in the Isle of Wight, including Catten House, Shanklin; Shanklin Chine and Culver Cliffs; the chapel at Carisbrook Castle; and Shanklin church in 1852. Watercolour views of the Peak District include Millers Dale and the entrance to the Peak Cavern. Both the Isle of Wight and the Peak District were destinations increasingly often visited by 19th century tourists.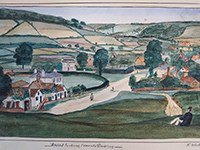 Indeed the album is very characteristic of the 19th century period in which it was created. It also contains a collection of prints and engravings, some of which reflect popular interest in what was seen as the romantic or exotic including views of various European locations such as the Acropolis at Athens, the mountains at Chamonix, and castles on the river Rhine, as well as Constantinople in the then Ottoman Empire and Canton in China.
The album also includes prints of various religious and theatrical subjects, pressed fern fronds, pencil drawings of animals and a photograph of the "Virgin's fountain" at Nazareth.
Images
Select image to view a larger version.
Shootlands Farm in 1846
The Sandhills on the road from The Rookery
Westcot (sic) looking towards Dorking
Tillingbourne in 1847