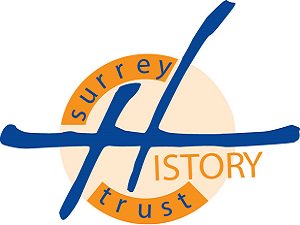 Inaugurated by HRH The Prince of Wales
Use the links below to jump to a section on this page:
Shaping the future of Surrey's Past
Surrey History Trust is an independent charity that supports the work of Surrey Heritage in caring for the collections in Surrey History Centre and preserving and promoting the county's history.
Since 1998, the dedicated and committed volunteers of the Trust have provided vital support to the Centre by:
helping to fund the purchase of documents and archive collections
giving wider publicity to the archive service in the community
holding talks and lectures about archives and archival research
funding cataloguing and indexing projects
providing money to buy specialist equipment for use at Surrey History Centre
sponsoring major projects based around the use of the Centre's holdings
making a real contribution to safeguarding Surrey's irreplaceable archival heritage
The work of Surrey History Trust since 1998
Surrey History Trust has raised many thousands of pounds to buy at-risk archives, purchase equipment and other resources, and support Surrey Heritage's exciting and groundbreaking projects.
Here are just some of the unique historic documents purchased by the Trust to ensure they are cared for and publicly accessible at the Surrey History Centre:
Thomas Thorp, bookseller of Guildford: scrapbooks of drawings, paintings and ephemera relating to Guildford and environs, 1738-1897, purchased with assistance from Surrey History Trust and others in July 2011 (SHC ref 8877)
Plan of Deepcut and Blackdown Camps and Barracks by E H Palmer, 2nd Lieutenant, 12th London Regiment, purchased in February 2017 (SHC ref 9734)
Architectural drawings of Royal Dramatic College, Woking, by William Webbe, 1861, purchased in May 2017 (SHC ref 9759)
And these are some of the Surrey Heritage projects the Trust has helped to fund:
Surrey History Trust has also organised two significant indexing projects:
Both are now available to purchase on CD or are accessible via www.findmypast.co.uk
Why not join Surrey History Trust and make a difference?
We welcome new members regardless of your ability to be involved but we are always looking for people who are keen to actively promote the work of the Trust, such as by running events, applying for funds for projects or raising the profile of the Trust and Surrey History Centre. You can also support the work of the Trust by:
attending an event
volunteering
making a general donation
donating a document
bequeathing a gift in your will
Find out how to join on our Surrey History Trust membership page.
Follow Surrey History Trust on Facebook.
---
Registered company no: 3661474
Registered charity no: 1076586
---
In this section