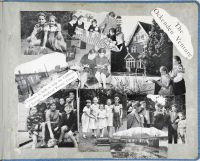 The Ockenden Venture refugee charity was established in Woking in 1951 by local schoolteachers, Joyce Pearce OBE, Ruth Hicks and Margaret Dixon. The initial object of the charity was to receive small numbers of Eastern European teenagers from post World War II displaced persons camps in Germany, and to support them through their secondary education. Although the charity remained personal in ethos, world events and the increasing numbers of refugees worldwide would lead it to widen its ambitions and operations.
Over the next 50 years, Ockenden helped countless people at home and abroad, establishing schools for Tibetan refugees in India, sponsoring the education of black South African students, and bringing Biafran refugees to Britain. Many educational and vocational centres were established for refugees in Sudan, Pakistan, Cambodia and Algeria. However Ockenden is perhaps best known for its major role in the resettlement in Britain of Vietnamese refugees escaping the Communist regime in the 1970s and 1980s.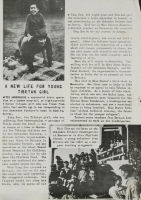 The story of Ockenden has been preserved and made accessible by Surrey Heritage and Woking Community Play Association through a Heritage Lottery-funded project, 'From Vision to Venture: the Story of Ockenden International'. Ockenden has always been a subject of local pride in Woking, and a specially commissioned drama, 'The Vision: Tales from Ockenden', was performed at Winston Churchill School in Woking in Spring 2010. Directed by Rib Davis, the play brought together people of all ages and backgrounds, reflecting the true spirit and local roots of Ockenden.
Researching the records of Ockenden International (formerly the Ockenden Venture)
The extensive archives of Ockenden International (as it later became known) can be consulted at Surrey History Centre. The surviving records in the Ockenden archive (collection reference 7155), spanning nine decades, not only chronicle Ockenden's genesis and development but also the lives of the refugees and staff, and the charity's projects at home and overseas. Importantly, the records also give a comprehensive overview of the reception of refugees into the United Kingdom from the 1950s to the 1980s. Ockenden's overseas projects – in India, South East Asia, the Middle East and Africa - are also documented. The records provide a candid insight into an organisation which inspired devotion and sometimes provoked fierce criticism.
The online catalogue lists the contents of the archive and a history of Ockenden.
A podcast about Ockenden and the reception and resettlement of Vietnamese refugees in the UK is available on YouTube.
What is in the archive?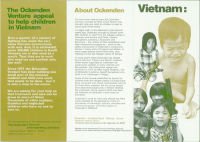 The records include official minutes and reports, correspondence, publicity material, photographs and papers of the founding members that document very fully the development of policy, life of the refugees and staff in the Ockenden houses, and its overseas projects.
The archive includes over 40 reels of television documentaries, newsreels and amateur films which illuminate the story and impact of Ockenden and provide a broader picture of the refugee situation from the 1950s onwards. These films have been digitised for their preservation, and the DVDs are available to view in the public search room at Surrey History Centre.
The collection also includes papers relating to individual refugees and their families. The sensitive nature of these records requires them to be closed to general public inspection, in accordance with Data Protection legislation. However, if you or a member of your family were helped by Ockenden, we may be able to grant access. See Requesting access to refugee files below.
More recently, recordings have been made of the experiences and memories of people who were connected with Ockenden, either as refugee, members of staff or volunteers. These recordings and transcripts of the interviews can be accessed at Surrey History Centre.
Other records relating to Ockenden can be found in the archive collections of Miss Elsie Broughton (8831), Miss Ailsa Moore (9642), Greenfield School, Woking (9797) and Denise Moll (10042). Additional records can be found in 9668 and 10330.
Requesting access to refugee files
Refugee files in the Ockenden International archive, series 7155/6/- and 7155/7/- are closed to general public inspection for 100 years due to the sensitive nature of their content. If you are seeking information relating to your own experiences with Ockenden, your enquiry will be treated as a Data Protection request. The Data Protection Act (2018) and General Data Protection Regulation (GDPR) (EU), 2016/679 are designed to protect personal data about living individuals (Data Subjects). It also provides individuals with the right to request if an organisation holds information about them and, if so, to request a copy of the information.
For permission to consult your own records (if they have survived), you will need to contact us to obtain and complete a Request for Access to Restricted Documents form and return it to Surrey History Centre, 130 Goldsworth Road, Woking, GU21 6ND, along with photocopies of two official documents that confirm your identity and current address (such as a driving licence and utility bill). Where applicable, please also send proof of your change of name (such as a photocopy marriage certificate).
You should be aware that some of the information in your records, if it contains references to third parties who may still be living, may still have to be withheld.
If you are seeking information relating to a person other than yourself, perhaps a friend or relative, who had dealings with Ockenden, we will not be able to release personal information to you without written permission (and proof of identity) from the person to whom the information relates. If the person is no longer alive, you will need to supply proof of this, such as a copy of their death certificate.
Contacting Ockenden people
If you are trying to contact other people who were involved with or helped by Ockenden, there are several Ockenden pages on Facebook including the Keffolds – Ockenden group which can be accessed if you have a Facebook account. Our Exploring Surrey's Past website also has a theme page on Ockenden International: from Vision to Venture with contributions from refugees helped by the charity.
Library sources at Surrey History Centre
Broughton, KEM, My Ockenden adventure by 'Miss Elsie' (2009)
Davis, Rib, Moore, Tash, Moll, Denise, A suitcase full of recollections: The Vision (2010)
Dixon, Margaret (ed), Joyce Pearce: the story of Ockenden in her own words: 1951 to 1985 (1996)
Lederman, Gerd, One man's journey with the Ockenden Venture: Hendre Hall, Barmouth, Wales 1980s (2010)
Moore, Ailsa, An Ockenden story: seven steps to Ockenden (7 volumes) (2010)
Pearce, Joyce: The earthing of the Christ Energies : a way of compassion: a talk by Joyce Pearce given to the Wrekin Trust Round Table, May 1981 (2010)
Watkin, Pamela, Joyce's Ockenden: the story of a vision that became a Venture for refugees (1993)
Images
Select image to view a larger version.
Photo montage on inside back cover of photograph album entitled 'Early Days, Joyce's Archive Photos for the Little House' (Surrey History Centre reference 7155/14/7)
Article from scrapbook entitled 'Yangzom', compiled by Peter Woodard (Surrey History Centre reference 7155/10/3/1)
Vietnam appeal leaflet, 1970s (Surrey History Centre reference 7155/4/3/5)