Name Index and Hearings Transcripts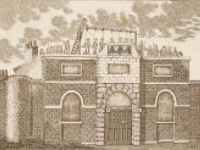 Did your ancestor end up in the County Gaol? Was he or she tried for coining, conspiracy or criminal damage? Was he publicly whipped, sentenced to hard labour or transported?
To find out, why not try our Surrey Quarter Sessions Name Index and Hearing Transcripts CD?
Our name index covers 54208 defendants (and aliases), accusers, victims and witnesses. The Hearings Transcripts combine information from the "Gaol Calendars" and "Process Books" giving details of the offence, prison, outcome of the case, committing magistrate, and the witnesses and victims involved in each case. They also indicate if "Examinations" (witness statements) survive and can be seen at Surrey History Centre.
Introduction to the CD and how to purchase it
The Surrey Quarter Sessions 1780-1820 CD is produced by the Surrey History Trust and can be purchased by Visa/Mastercard/Debit card from the Surrey Heritage online shop or from Surrey History Centre, 130 Goldsworth Road, Woking, Surrey GU21 6ND. Price £10 plus £3.50 postage and handling in the UK; £4.00 Europe; £5.00 rest of world. Please make cheques payable to "Surrey County Council". If you are contacting us from outside the UK, please let us know your country of origin as changes in VAT legislation may affect the services we can provide.
See also our Collections Catalogue for details of Quarter Sessions Records which you can view at Surrey History Centre.
This project has been entirely carried out by volunteers who have worked enthusiastically on very complicated records in their own homes. Surrey History Trust and Surrey Heritage are very grateful to all of them for their hard work and dedication. The CD is published in memory of John Holland, a volunteer who helped devise the project, and wrote the data capture programme.
The disc runs in Adobe Acrobat version 6 and above.
For further research by social historians, an MSAccess database file containing all the data is also included on the disc.
The transcripts are now also available to search on-line on Find My Past. Find My Past can be used free of charge in all Surrey Libraries and at Surrey History Centre.
---
Files available to download