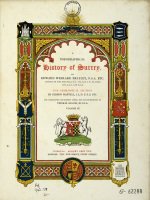 Edward Wedlake Brayley (1773-1854) was born in the parish of Lambeth, then part of Surrey. He was apprenticed to an enameller and then worked as a technician for the artist Henry Bone, making and firing the large enamel plates he used for his portraits. Early in his career, Brayley became acquainted with John Britton (1771-1857) who was to become his lifelong friend and collaborator. Britton, an orphan from Wiltshire, who was making a living getting work where he could in legal chambers, helping out in public houses and singing in theatres, later wrote of Brayley "I am more indebted [to him] for literary acquirements and literary practice than to any other person". In his autobiography (1850), Britton related:
"In my boyish days when I occasionally emerged from the cobwebbed and dank cellar of the Jerusalem Tavern at Clerkenwell Green and eagerly sought to obtain information and amusement at the bookshop of Mr Essex, I often met the future historian of Surrey. Mr Brayley at that time, like myself, was an ardent reader and lover of books".
They became firm friends and gained some fame for a song written by Brayley which they performed together at a weekly 'spouting club' held at the Jacob's Well in the Barbican, to "a crowded assemblage of smokers and tipplers". The ditty, entitled 'The Powder Tax, or a Puff at the Guinea Pigs', was a satire on powdered hair and pigtails, and proved so popular that they printed and sold several thousand copies at a penny a piece.
Beauties of England and Wales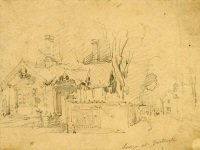 By 1800 the two men were working in partnership after Britton had been commissioned by a Salisbury publisher to produce 'The beauties of Wiltshire' which he wrote with Brayley and published in two volumes in 1801. They began touring the West Counties, Midlands and Wales, gathering material and information but, by their own admission had "little qualification for its arduous duties". Despite this they obtained financial backing for the project and began to write and edit the series 'Beauties of England and Wales', starting with Bedfordshire, Berkshire and Buckinghamshire. Their expertise and knowledge of topography, architecture and archaeology grew, with Brayley usually contributing the final written text and Britton collecting the source-material and supervising the draughtsmen and engravers for the copious illustrations. Although it had originally been conceived as a six-volume work to be finished in three years, it eventually expanded to 25 volumes, and other writers and illustrators were brought into the project which took until 1816 to complete.
By 1814 the friends had completed six volumes of the series, and Brayley had written the text for Hertfordshire, Huntingdonshire, Kent and parts of London. However during these years both men were also working on other publishing projects - Britton completing a 9-volume work, 'Architectural antiquities of Great Britain' in 1814 - and they withdrew from the 'Beauties of England' project before its completion after a disagreement with the publishers. All the volumes were very popular at the time and contained beautiful copper-plate engravings by a variety of artists. The Surrey volume (vol 14) was issued in 1813, credited to Britton and Frederic Shoberl, a journalist and editor who had founded the 'New Monthly Magazine' and the first literary annual 'Forget-Me-Not'.
A Topographical History of the County of Surrey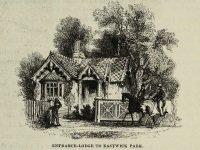 During these years, Brayley had continued his work with Henry Bone as well as writing several other works, including 'Lambeth Palace illustrated by a series of Views representing its most interesting Antiquities' (1806) and 'The British Atlas' (1810) and 'Cowper: illustrated by a series of views accompanied with copious descriptions and a brief sketch of the poet's life' (1810). He was elected a fellow of the Society of Antiquaries in 1823 and in 1825 was appointed librarian and secretary of the Russell Institution. Until his death in 1854 he wrote or collaborated on over 30 books on a variety of topographical and antiquarian topics, including his most extensive work 'A Topographical History of the County of Surrey' (1841-1848).
All five volumes of 'A topographical history of the County of Surrey' acknowledge on their title pages the collaborative nature of the work, with Brayley as author "assisted by John Britton and E.W. Brayley (his son Edward William, a noted scientist), the geological section written by Gideon Mantell and the illustrative department under the superintendence of Thomas Allom". The first volume was published in Dorking in 1841, when Brayley was 68 years old, by Robert Best Ede who is listed in Pigot's Directory of 1839 as a printer, bookseller and postmaster. Ede's premises incorporated a library and reading room and, according to Eric Parker in 'Highways and byways of Surrey', he spent £10,000 on the printing of the five volumes. It was a carefully planned business venture in collaboration with the London publishers, Tilt and Bogue of Fleet Street, with support from landed gentry and businessmen across Surrey and London who subscribed to the volumes and provided many of the illustrative plates. In his preface to the first volume Brayley gives his address as Rose Hill in Dorking so it would appear that for a time he was living in the heart of the county and was familiar with the locality and society.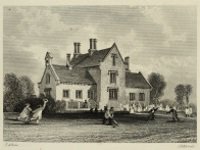 The book which came just a few decades after that other great work on Surrey - Manning and Bray's 'The history and antiquities of Surrey' - had a very different approach to the past. Whereas Manning and Bray's great work of scholarship had taken 40 years of intense, painstaking research and study of manuscript as well as printed source material, Brayley had a very different method. He was adept in gathering and editing the available historical information (his colleague Britton traced and purchased many of the volumes) and combining it with information on antiquities, the landed gentry and their residences. An enquiry form requesting contributions were sent to all the principal landowners, clergy and civil authorities in Surrey and they responded providing much of the local information on industries and businesses, stories and anecdotes that appears in the volumes. The form also listed over 500 committed subscribers, headed by Queen Victoria (to whom the first volume is dedicated). Combined with a generous use of illustrations, this style of writing had a great appeal to a burgeoning Victorian middle-class audience. However, it is certainly not a lesser history, rather one with a different emphasis, and Brayley writes engagingly on his subjects. It proved very popular and was republished in a larger format a few years later and updated with a new revised edition written by Edward Walford, published by Virtue & Co. between 1878 and 1881.
Brayley's history of Surrey remains a valuable source of information for today's readers. It contains a wealth of local information on the county towns and villages, the early and mid-Victorian landowners and the history and former occupants of the great country houses, estates and manors. The churches, their monuments and parish histories are described along with lists of parish clergy and information relating to local businesses, agriculture, market gardens, industries and manufacturing. Brayley also wrote of the improved roads and transport system of the first half of the century including the canals and early railways, as well as local education, schools and literary institutions that were contributing to the growing literacy of the rural population. He gives us details of the life of all classes: as well as the great houses and parks there are also workhouses, savings banks and even 'houses of correction' or county gaols. He added local colour with folklore and stories, such as that of the infamous ale-wife of Leatherhead, Elinour Rumming, whose former residence, by then known as the Running Horse, was claimed to be the setting of John Skelton's 1550 bawdy poem 'The Tunning of Elinour Rumming'.
Thomas Allom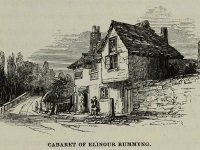 Finally, there is also the great aesthetic and artistic value of the volumes; all are generously and beautifully illustrated. The responsibility for the illustrations was given to Thomas Allom (1804-1872), an architect and draughtsman. He had studied at the Royal Academy School and was one of the founding members of the Royal Institute of British Architects, although in the 1820s and 1830s he concentrated on his work as an artist, specialising in topographical drawings and travelling extensively. For the history he organised some 118 steel engravings and rather more smaller woodcuts and contributed at least 79 of his own works. The quality of these is uniformly high and the detail of the prints is of tremendous value for researchers. A collection of Allom's original drawings of Surrey places is held at Surrey History Centre (SHC ref 8582), some of which were engraved and used in the history.
Edward Wedlake Brayley died at his residence in Coram Street, Bloomsbury, London in 1854 aged 82. John Britton died in 1857 and is buried at West Norwood cemetery; his gravestone, a 10 foot slab of granite, was designed to be as permanent as Stonehenge and is Grade II listed. Britton's library of antiquarian books was purchased by a group of Wiltshire gentlemen who formed the Wiltshire Archaeological and Natural History Society; his books and papers in their original cabinet are now held at the Wiltshire Heritage Museum.
Sources
Greenwood, G.B. Surrey topographical prints, (Greenwood, 1972)
Dictionary of National Biography (OUP)
Todd, Joy. 'Edward Brayley, Surrey historian', Surrey Life, March 1973
Harte, Jeremy. Brayley : sources for Epsom and Ewell history (2014)
Wikipedia – articles on Edward Wedlake Brayley and John Britton
Images
Select image to view a larger version.
Title page of Brayley's 'A topographical history of the County of Surrey', volume 4
Pencil sketch of Lodge at Eastwick, c.1840s (SHC ref 8582/8)
Engraving of Eastwick Lodge, entrance to Eastwick Park, in volume 4
Engraving of The School House on Dunsfold Green, in volume 5
Engraving of Cabaret of Elinour Rummyng, in volume 4