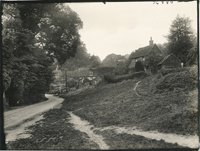 In 2016, Surrey Libraries in partnership with Hurtwood Press and The Bluehouse Festival ran a poetry and landscape photography competition called 'Words in Focus'. There was an overwhelming response to the competition with over 160 poetry submissions and 140 photography submissions from Surrey residents and library members. After a difficult task in shortlisting the entries, a selection was chosen for publication.
The result was 'Words in Focus', an anthology of Surrey poetry and landscape photography and an amazing showcase of our talented community. It contains the work of local photographers and poets who have found inspiration in the Surrey landscape. Hurtwood Press has produced a limited number of this showcase book which has been hand stitched and printed on the finest archival paper. The book undertook a tour of Surrey libraries in 2017.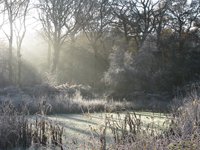 One copy has been donated to Surrey History Centre and is on display in March alongside some of our own collection of poetry and landscape illustrations. This includes photographs from the Photographic Survey and Record of Surrey and Francis Frith and Co collections, published works of landscape artists Myles Birket Foster, Helen Allingham and Edward Wilkins Waite and poetry by Abraham Cowley and other local poets.
The Photographic Survey and Record of Surrey was incorporated at a meeting at Croydon Town Hall in 1902, its object 'to preserve by permanent photographic process records of antiquities, anthropology, buildings of interest, portraits of notable persons, old documents, rare books, prints and maps, and scenery so as to give a comprehensive survey of what is valuable and representative in the County of Surrey'. The early contributors were enthusiastic amateur photographers who scoured the county recording anything they considered to be of interest: houses, farms, landscapes, churches, local industries, even farm implements, bird's nests and trees! Interest began to decline during the 1930s and, in 1953, the Survey ceased to exist. In the 1980s, the collection of approximately 10,000 photographs and 1,800 glass lantern slides was split between Croydon Local Studies Library, Sutton Libraries and Surrey Local Studies Library (formerly in Guildford, now at the History Centre).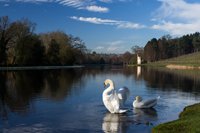 Francis Frith (1822-1898) started a photographic studio in Liverpool in 1850. Returning from travels in the Middle East in 1859, he established Francis Frith and Co in Reigate as the world's first specialist photographic publisher. He embarked upon a colossal project to photograph every town and village in the United Kingdom, particularly historical or interesting sights, and established his postcard company, which became one of the largest photographic studios in the world. After his death, his family continued the firm, which was finally sold in 1968 and closed in 1971, but was re-launched as The Francis Frith Collection by John Buck in 1976. Surrey History Centre purchased a collection of photographs of Surrey in 1995 (SHC ref 6316).

Many English writers have particular regional associations, most famously the Brontes of Haworth in Yorkshire and the Lake District poets: Wordsworth, Coleridge and Southey. Although Surrey has no such famous links, its proximity to London has often provided a convenient rural haven from the bustle of the metropolis. Its landscape of hills, heaths and rural villages has attracted many artists and writers appreciative of its gentle and varied landscape and its calm, rural way of life, whilst still being within easy travelling distance of the cultural heart of the capital.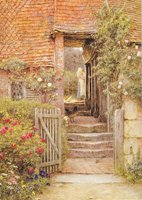 In the mid-nineteenth century, the area around Haslemere, Witley and Milford attracted a considerable number of London-based artists, drawn by the beauty of the landscape and the healthy air. The artist James Clarke Hook (1819-1907) moved to Hambledon in 1857 and was visited there by his friend Myles Birket Foster (1825-1899), one of the foremost watercolour painters of his time. Foster initially rented a summer cottage for his family and then in 1863 bought Wormley Hill where he built The Hill, a mock Tudor house decorated by William Morris. He was interested in the vernacular architecture of South West Surrey and he sketched and painted many of the local cottages and farmhouses. One cottage near his home in Wormley Wood was a favourite subject of many local artists, and Foster even paid for the roof to be repaired when it was threatened with demolition.
Another visitor to the area was Helen Allingham, well known for her paintings of Surrey cottages. She first visited the county when she and her husband stayed with their friend Lord Tennyson in Haslemere. In 1881 the couple bought a house in Sandhills, near Witley, and it was in the area that she discovered and painted the classic 'chocolate box' country cottages with their tumbling thatched roofs, cottage gardens and barefoot children in bonnets for which she is famed.
Abraham Cowley (1618-1667) was a much-celebrated poet in his day and published his first works, 'Poetical blossoms' at the very early age of 15. Ejected from Trinity College, Cambridge, for his Royalist sympathies, he later left England in the service of Queen Henrietta Maria and conducted secret correspondence in cipher between members of the royal household. His cycle of love poems 'The Mistress' was published in 1647. He returned to England during the Interregnum and was for a short time imprisoned but he continued to write prolifically, particularly in the style of the Greek poet Pindar. On the Restoration of Charles II, Cowley's friend George Villiers the Duke of Buckingham helped him to obtain a lease on land in Surrey and he moved into Porch House at Chertsey in 1665 where he lived until his death. He was given a magnificent funeral at Westminster Abbey where he was buried next to Chaucer and Spenser; his monument proclaims him 'The Pindar, Horace and Virgil of the English, the glory and favourite of his age'. The following extract from his poem The Wish expresses some of his appreciation of the rural life he enjoyed at the end of his life;
'I should have then this only fear
Lest men, when they my pleasure see,
Should hither throng to live like me,
And so make a city here'
Sources:
Lindsay, Alexander. Abraham Cowley (1618-1667). Dictionary of National Bibliography. 2016.
Watts, Annabel. An artist's Surrey Eden : the neighbourhood of 19th century Witley. Craddocks Printing, 2004.
SHC ref 8752/- Edward Wilkins Waite RBA (1854-1924), artist of Surrey, Berkshire and Sussex: records including sketch books and loose sketches, record books, movement book, photographs, postcards, drawings
SHC ref 7828/- The Photographic Survey and Record of Surrey: reports and photographs
SHC ref 6316/- Francis Frith and Co Ltd: Surrey photographs
Images:
Sandhills, Witley (Frith and Co Ltd), 1923 (SHC ref 6316/4563)
'Frosty Morning' by Colin Kemp, from 'Words in Focus', 2017
'Swan Lake' by Graham Dash, from 'Words in Focus', 2017
Hambledon, under the Old Malthouse, watercolour by Helen Allingham, c.1890s (SHC ref PC/73/2/1)