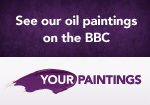 The Public Catalogue Foundation's Art UK (formerly Your Paintings) website aims to show the entire UK national collection of oil paintings, reveals the stories behind the paintings, and explains where to see them. It comprises paintings from thousands of museums and other public institutions around the country. Amongst the 212,000 works of art on the site are three oil paintings held at Surrey History Centre. Two are uninspired topographical views, about which little else is known, but the third, a small, rather worn, picture of a dog (SHC ref DFC/A/1/5) does have a story.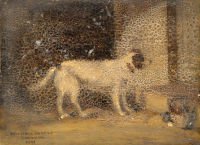 This small oil painting (15.2cm x 11.5cm), is signed by Micheal [sic] Angelo Lowther 1821, and endorsed, 'Charles Lutwidge Dodgson. Given to him August 1836 by Ruth Middlebrook who lived many years as Housemaid in his Mama's family'.
The painting came to the Surrey History Centre as part of the archives of the Dodgson family whose most celebrated member was Charles Lutwidge Dodgson (1832 to 1898), better known as Lewis Carroll. It must have been dear to the author to have remained with his childhood belongings and for him to remember in adulthood who had given it to him when aged just four years old. It has recently been conserved and the flaking paint stabilised with funds raised by the Surrey History Trust.
From the time that he became head of the family on his father's death until he died there in 1898, the Rev Charles Lutwidge Dodgson was a frequent visitor to Guildford. He installed his sisters in a house called The Chestnuts on Castle Hill in September 1868 and he always spent Christmas with them. A keen amateur photographer, many of his well-known pictures of children were taken in the garden and house, where he and his family also enjoyed amateur theatricals. Occasionally he preached in St Mary's Church and frequently wrote of long walks on the Downs and surrounding countryside around Guildford. As far as is known, he was usually on holiday when in Guildford, and undertook none of his fiction writing there, although his vivid imagination would have been inspired by his surroundings.
Nonetheless, Guildford has a good claim to be, after Oxford, the place most associated with his adult life. He died from pneumonia, at the age of 65, in January 1898 whilst staying at The Chestnuts and he is buried in the Mount Cemetery on the hillside overlooking the town. At least by the time the centenary of his birth was being celebrated in 1932, Guildford was conscious of the significance of the distinguished former occupant of The Chestnuts, and the profits of the celebrations in the town went towards the placing of a plaque on one of the gateposts in Castle Hill. Its unveiling on 24 May 1933 was attended by several members of the Dodgson family.
Using the genealogical website Ancestry, the artist Michael Angelo Lowther can be traced through census information to Kingston upon Hull in Yorkshire where he was born circa 1808, and was recorded in census returns as an artist and portrait painter. He is also listed in the 1839 Pigot's Directory as a drawing master of 13 Bond Street, Hull. Charles Dodgson's maternal grandparents, the Lutwidges, lived in Hull and Charles is thought to have visited them in 1836* when he accompanied his father who had been appointed examining chaplain to Charles Longly, the newly installed Bishop of Ripon.
It was probably on this visit that the housemaid Ruth Middlebrook gave him the painting. How it came into her possession is not known but it is dated 1821, some years earlier, when the artist was only 12 to 14 years old. Had she known Michael Angelo Lowther as a young boy or had he been employed to teach painting and drawing to Charles's mother Frances before her marriage in 1827? Both Frances and her sister Lucy were considered great beauties and were described as the 'swan-necked sisters'; so perhaps the young drawing master had gifted her this early work or brought it to the house as an example, and the housemaid had put it by as a keepsake. The truth of its origins are now lost but as a treasured possession of a much-loved writer for children, from his own childhood that many say he never grew out of, it is of interest to all who value his life and writings.
* Clark, Ann, Lewis Carroll: a biography, (Dent, 1979) 920CAR