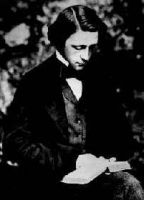 'I can never have told you my views as to my real name and my pseudonym ... For 30 years I have managed to keep the two personalities distinct, and to avoid all communication, 'in propria persona', with the outer world about my books'.
(Letter from Charles Lutwidge Dodgson, otherwise Lewis Carroll, to Mary Manners, children's author, 7 Feb 1895. SHC ref G103/1/32)
Surrey History Centre holds several significant archives relating to Charles Lutwidge Dodgson, otherwise Lewis Carroll (1832 to 1898), which in particular provide important evidence of his private life as the Reverend Dodgson and his time spent corresponding and meeting with family and friends. For a brief guide to our holdings please follow the link at the bottom of this page.
Charles Dodgson died at The Chestnuts, his family's home in Guildford, in 1898, and he is buried in The Mount Cemetery there. He had accumulated a vast quantity of records of the various aspects of his life as a mathematics don and logician, as Lewis Carroll the writer, and as an amateur photographer, but shortly after his death, his brother Wilfred agreed that the many sacks of papers collected from his rooms at Christ Church Oxford could be burned, and the family sold other papers at auction.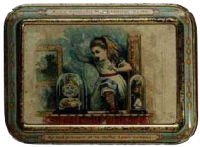 In 1965 the younger generation of the Dodgson family decided to deposit many of their surviving records at Guildford Muniment Room and Museum: the Dodgson Family Collection archive (SHC ref DFC) is now at Surrey History Centre, while the family toys are on permanent display at Guildford Museum. DFC includes papers relating to Dodgson's childhood, letters and his original photographs of his brothers, sisters and aunt.
Among many 20th century papers are reminiscences by 'child friends' and also a page of notes and a letter of 1932 relating to family members' speculations on the pages now missing from his diaries.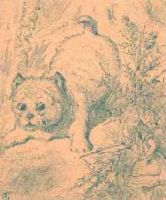 Donations from other sources from the 1950s to the 1990s have further enriched our resources for Lewis Carroll studies.
The Manners family archive is a rare example of a complete series of letters from Dodgson surviving intact. Dodgson wrote to Mary Manners, children's author, and her brother Charles between 1895 and 1897. To Mary he imparts his views on the friendship of children and the separation of his two 'personalities'. (SHC ref G103)
Letters to 'child friends' include autograph letters and facsimiles of letters held privately (SHC refs 6968, LC/7/1-2 and Zg/73). The papers of Derek Hudson, who published a biography of Dodgson in 1954, feature an autographed letter and an original copy of 'The Game of Logic' by Lewis Carroll, c.1886-7 (SHC ref 8593).
You can view more information about articles and collections held at the British Library relating to Lewis Carroll.
The British Library has held the precursor to the Alice In Wonderland manuscript (called Alice Under Ground) since 1948. The work is unique in that it was created by Carroll as a gift for Alice Liddell in 1864, making it the very first edition of the book. Alice's Adventures Under Ground can be browsed online.
Images:
Portrait photograph of Charles Lutwidge Dodgson (aka Lewis Carroll), 1856 (SHC ref DFC/B/1/2)
'Alice' biscuit tin from the Manners Collection (SHC ref G103/2/4)
Sir John Tenniel's sketch of 'The Big Puppy' from 'Alice in Wonderland' (SHC ref LC/3)
---
Files available to download