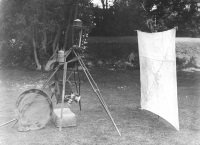 The study of natural history has often been the realm of the enthusiastic and knowledgeable amateur, many of whom have become distinguished in their chosen field. During the 19th century, various clubs were set up in Surrey for this purpose including The Holmesdale Natural History Club, formed in 1857 with the object of investigating the natural history of Reigate and its vicinity and the improvement of its members through the study of nature. Croydon Natural History and Scientific Society was originally founded in 1870 as the Croydon Microscopical Club and, in 1893, Guildford Natural History and Microscopical Society was established by members of Guildford Working Men's Institute. All these clubs and societies have continued their existence until the present.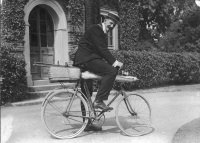 Another still active society is the British Entomological and Natural History Society, originally founded in 1872 as the South London Entomological and Natural History Society. One of the members of the Society was T H L Grosvenor of Redhill who was especially noted for his collection and study of moths. His moth-catching apparatus with lamps, sheet, basket and net is recorded in one of the images taken for the Photographic Survey and Record of Surrey in August 1912, as is Mr Grosvenor himself dressed in suit and hat, with the equipment strapped to his bicycle as he departed on another moth hunting expedition. Some of the moths and butterflies he collected are now in the Natural History Museum, London, and he published a wide range of research articles.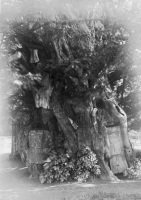 Grosvenor's collecting activities continued during his military service in the First World War, in what was originally a cyclist battalion, when stationed at Hebbal, Bangalore, India. In 'The Londoner. The Journal of the 1/25th Battalion The London Regiment', vol. 1, no. 1, October 1916, he contributed an article headed 'The Bug Hunter', in which he described the life cycle of butterflies and the best means of killing, preserving and sending them home. The editor of the journal declared that 'Cyclist Grosvenor is too well known to require introduction and we need not remind you that any query submitted to him will receive that attention that only a specialist can give'.
The Photographic Survey and Record of Surrey also captured other natural history subjects including nests of birds with eggs, teeth of a mammoth found on the site of Frenches Road School, Redhill, in 1897, and massive ancient yew trees in the churchyards at Crowhurst (complete with a door in the trunk!), Horley, Tandridge, Walton on the Hill and Warlingham.
Images
Select image to view a larger version.
Mr T H L Grosvenor's moth-catching apparatus set up, Redhill (SHC ref 7828/2/122/154)
Mr T H L Grosvenor starting to catch moths, with his apparatus packed on a cycle, Redhill (SHC ref 7828/2/122/245)
Yew tree in churchyard, Crowhurst (SHC ref 7828/2/47/51)
Useful links