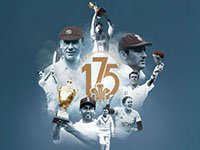 In 2020, Surrey County Cricket Club marked 175 years since its foundation in 1845. The first minute book of the club contains a report from the 'Sunday Times' of 31 August that, after a match at The Oval in Kennington between the Gentlemen and Players of Surrey, everyone went to the nearby Horns Tavern, where, after dinner, it was resolved 'amidst universal cheering' that a Surrey club be formed. The Oval cricket ground was leased from the Duchy of Cornwall Estates, and this has remained the Club's headquarters ever since.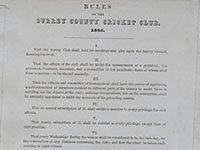 The 19th century minute books detail the organisation of the Club and the playing of cricket, but also highlight use of The Oval for football including FA Cup matches (the first final was played there in 1872), cycling, athletics and other sports. The Club was also involved in Kennington life - in November 1875 the annual donation of 5 guineas to the local soup kitchen was made.
The Oval was the site of the first Test Match between England and Australia on English soil in 1880, and after the match in 1882, which Australia won by 7 runs, 'The Sporting Times' printed an obituary notice for English cricket, which led to the creation of The Ashes trophy.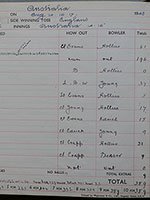 The Club's archives contain scorebooks from a number of years, including the famous Test Match against Australia in 1948 in which the great Australian Donald Bradman was dismissed for 0, when only needing 4 runs to average 100 in all Test Matches. One of his main adversaries was the Surrey and England bowler and Woking resident Alec Bedser (1918-2010), who dismissed Bradman several times in matches. Bedser struck up a warm friendship with the legendary Australian batsman, which endured until Bradman's death, and Bedser's papers include a signed photograph of Bradman and a letter of April 1947 from Bradman offering advice to him on his bowling:
'Nobody knows better than I do the great burden of work you carried on the Australian tour (of 1946-47). It did seem to me that the best ball you bowled was the one which went away to the slips off the pitch and if you could reproduce for instance the one with which you bowled me in Adelaide, then you would not have to worry about any others. Very good wishes and the best of good luck in England next summer'.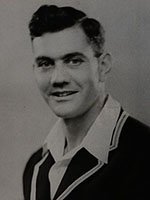 Surrey County Cricket Club has been one of the most successful English clubs, notably winning the County Championship every year from 1952 to 1958, seasons in which Alec Bedser and his twin brother Eric played a large part.
Learn more about the cricketing careers of the Bedser Twins.
Discover the earliest origins of cricket, along with some famous Surrey connections, including Surrey County Cricket Club and the Bedser twins.
Images
Select the images to view a larger version.