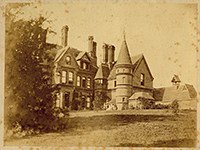 Among the archives of the Farrers, father and son Thomas Henry Farrer, 1st Baron Farrer, and Thomas Cecil Farrer, 2nd Baron Farrer (Tom), are a small number of evocative personal recollections of the remarkable Mrs Grote (1792 to 1878) of Shere, who was among many visitors to their convivial country home, Abinger Hall.
Thomas Henry Farrer was related by marriage to the Wedgwoods and the Darwins, and knew personally many notable men of the later 19th century. A few he wrote about extensively, including Prime Minister William Ewart Gladstone. Thomas Henry Farrer met Harriet Grote during the 1870s, when she was in her 80s, when he was invited to play billiards with her in Shere in the absence of her usual opponent, the women's suffragist Augusta Spottiswoode of Peaslake. Mrs Grote made such an impression that Farrer would reflect a few years later on her death, "I feel that I have lost in her a person of more consequence to me than many I have known all my life".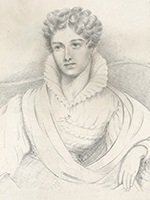 In her heyday, she knew everyone there was to know: Mrs Grote, wife of City of London MP George Grote, invited "dukes, lords, scholars...all the fashionable celebrities" to her salon in Savile Row, and was patron to musicians Frederic Chopin, Felix Mendelssohn and Jenny Lind. As a campaigner for political reform in the 1830s, she worked with the computer pioneer Charles Babbage in the creation of a secret ballot machine. She was later a founder of the Society for Female Artists, and spoke in support of votes for women from the beginnings of the movement in the 1860s.
Farrer captures the spirit of the woman, clearly as forceful and engaging as ever: "She was vain: she liked to hear herself talk: & she said sharp or rather rough things. But her vanity was of the self complacent, not of the morbid kind: it made her kindly not touchy – her talk was so good that one did not wish to interrupt it. Her rough sayings never had malignity and as often as not they were said to people's faces. She had much humour and could see the weak side of her friends, without liking or esteeming them the less." (Surrey History Centre reference 9609/4/3/2).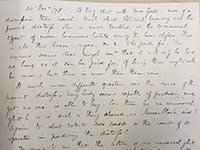 Young Tom Farrer notes with amusement too in his diary for 1877, old Mrs Grote's "many stories of her rubbing posts and intellectual companions" (Surrey History Centre reference 9793/2/1/3).
Mrs Grote died at her home in Shere in 1878, and is buried in the churchyard of St James. Farrer's memoir praises "the hearty sympathy she shewed for everything of interest in human life: for great joys & great sorrows: for works of all kinds: and for genuine play", and gives us a brief but direct connection with this important woman in Surrey's past.
There is much to find out about Harriet Grote: see our Exploring Surrey's Past webpage. Dr Martin Spychal's blogs are a brilliant source for Harriet Grote's life in politics, and the secret ballot campaign. For more about the Farrers, see our Exploring Surrey's Past webpage.
Images
Select image to view a larger version.
Abinger Hall in 1875. Mrs Grote was among many to enjoy the hospitality of the Farrers at home. (Surrey History Centre reference 9609/1/3/9)
Harriet Grote (née Lewin) by Charles George Lewis, printed by Jérémie Graf, after Charles Landseer
lithograph, circa 1840. NPGD34999.
Memoir of Thomas Henry Farrer, recording a 'long chat' about political economy very shortly before Mrs Grote's death (Surrey History Centre reference 9609/4/3/2)