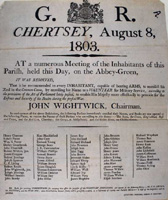 The Napoleonic Wars version of the Home Guard was the local volunteers. The Volunteer Corps, consisting of both infantry and cavalry units, was a part-time organisation for the purpose of home defence. Many were initially raised during the French Revolutionary Wars and disbanded in 1802 at the Peace of Amiens. With the resumption of hostilities, volunteer units were formed under the provisions of the Defence of the Realm Act 1803.
Enlistment and membership were entirely voluntary, and the men were not required for military service abroad. The units were not subject to standard military regulations and could therefore reform and disband at will, and members could sign up and leave at their pleasure with no minimum length of service. In addition, volunteers were exempt from the militia ballot.
One of Surrey's volunteer units, the Chertsey and Thorpe Volunteers, came into being after a meeting on the Abbey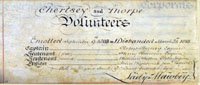 Green, Chertsey, on 8 August 1803, when a number of local men came forward to join the new unit. It was formally enrolled on 9 September 1803 and consisted of a Captain, two Lieutenants, an Ensign, 14 Sergeants, 10 Corporals and 255 Private men. There was also a small band of three drummers, three fifers, two buglers and two clarinettists. Lady Mawbey presented Colours to the unit on 1 December 1803.
Rules and Regulations were drawn up and printed; unfortunately, the first four pages of those for the Chertsey and Thorpe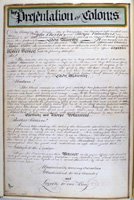 Volunteers are missing and it is unclear what uniform they wore. Their rules laid down that members had to attend two drill sessions per week and any field days decided upon by the commanding officer and also lists fines payable for disreputable behaviour.
The Chertsey and Thorpe Volunteers served until 21 March 1813 when they were disbanded.
Images:
Chertsey and Thorpe Volunteers - Meeting to form the Volunteers, 1803 (SHC ref 6516/vol 1 page 41)
Officers of the Chertsey and Thorpe Volunteers (SHC ref 6516/vol 1 page 44)
Presentation of Colours to the Chertsey and Thorpe Volunteers, 1 December 1803 (SHC ref 6516/vol 1, page 43)