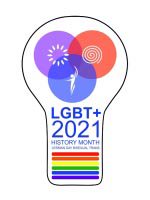 Every February in the UK LGBT+ (Lesbian, Gay, Bi and Trans+) History Month celebrates the lives and achievements of the LGBT+ community. We use the campaign as an opportunity to discover and share Surrey's own LGBT+ past and celebrate its present and future.
This year's national theme is 'Mind, Body, Spirit', as the campaign organisers felt that "with rates of mental illness, addiction and suicide still at epidemic proportions in the LGBTQ+ community it was important that the 2021 History Month addressed the subject". With this in mind, we are focusing on Alan Turing and his connections with Surrey. Heralded as the father of modern computing, Turing's work has had an immense impact on the history of the 20th century, in particular through breaking the German 'Enigma' encoder in the Second World War. However, he was also judicially persecuted for being gay and took his own life on 7 June 1954, at the age of only 41.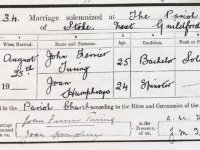 Surrey History Centre holds thousands of Church of England marriage registers in its archives, including one for St John's Church, Stoke, Guildford, which contains an entry for the marriage of John Turing and Joan Humphreys, on 25 August 1934. The ceremony was witnessed by John's father, Julius, and the happy event was reported in the local Surrey Advertiser newspaper. John and Joan moved to a house in Jenner Road, Guildford, where they raised their family, and at Christmas time a clever young uncle would visit and delight the children by solving cracker puzzles. The clever young uncle was Alan Turing and the marriage register is one of the rare sources that reveals Surrey's hidden connection with the code breaker.
Turing's parents, Julius and Ethel, moved to 8 Ennismore Avenue, Guildford (now renumbered as 22), following his father's retirement from the Indian Civil Service in 1927. Although away at school for long periods, Guildford gave Turing his first proper home and the family would go for long walks in Stoke Park and on the North Downs. He continued to visit the family home whilst studying at King's College, Cambridge.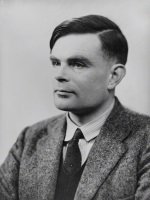 Although shy, Turing never concealed his sexuality from his friends. In 1941, whilst at Bletchley Park, he became engaged to Joan Clark, a fellow code breaker. Joan knew Alan was gay and, while they got on well, Alan felt that the situation would be unfair on them both and so broke off their engagement.
It was Turing's short affair with Arnold Murray in 1952, whilst working at the Computing Laboratory at Manchester University that brought his private life into conflict with the social mores of the day. Discovering that Murray was an accomplice to burgling his house, Turing reported him to the police, naïvely making a full statement on their relationship. As sex between men was then illegal, whether in private or in public, both Turing and Murray were prosecuted for 'gross indecency' under the archaic Section 11 of the Criminal Law Amendment Act, 1885. Turing was unashamed of his admission and wrongly believed that the law was about to change. In reality, The Wolfenden Report which suggested that homosexual behaviour between consenting adults should no longer be a crime, did not appear until 1957 and it was not until 1967 that The Sexual Offences Act partially decriminalised sex between men in private. The choice facing Turing was stark. He was offered probation rather than imprisonment, provided he participated in a newly developed chemical hormonal 'treatment' programme. Turing submitted to the treatment - and its unpleasant side effects - most probably in order to be able to pursue his work.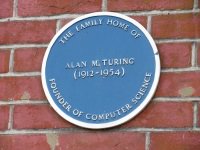 Many gay men and lesbian women in the 1950s and 1960s lived haunted lives. Thousands entered into marriages of convenience to avoid being sacked from their jobs, suffering awkward questions and social isolation. When it finally came, the 1967 Act was seen as ending the 'blackmailer's charter' that had resulted in so many suicides. For Turing, the legislation came too late and, whilst his motivation for his suicide is not fully known, the cruel effects of the 'chemical rehabilitation' which he endured, along with his criminalisation, must have influenced his state of mind. Turing ate an apple apparently laced with cyanide. He left no suicide note and the apple was never tested. His mother Ethel Turing never accepted the coroner's verdict of suicide and believed her son had ingested the poison accidentally. On 12 June 1954, Turing was cremated at Woking Crematorium, and his ashes scattered where those of his father had been. In Surrey he is memorialised with a statue on the campus at the University of Surrey in Guildford.
In August 2009, a petition urging the British Government to apologise for Turing's persecution received more than 30,000 signatures. A month later, Prime Minister Gordon Brown issued a formal apology, recognising Turing's contribution to the war effort and saying "he deserved better". On 24 December 2013, the Queen signed a pardon for Turing's conviction with immediate effect. Furthermore, since 2017 in England and Wales, the 'Alan Turing Law' has been an informal term for provisions in the Policing and Crime Act 2017 for the pardoning of gay men cautioned or convicted under historical legislation. As a result, thousands of men were exonerated.
As Turing himself once declared "Sometimes it is the people no one can imagine anything of who do the things no one can imagine."
The Bank of England has announced that Turing will be the face of the new £50 note in 2021.
For LGBT+ History Month you can listen to our latest podcast with Paul Backhouse, local Turing expert and Guildford Town Guide, who reveals more about Alan Turing's hidden connections with Surrey.
Learn more about Alan Turing in Surrey with our Exploring Surrey's Past web page
Images
Select image to view a larger version.
Marriage entry for John Turing and Joan Humphreys, parish register for St John's Church, Stoke, Guildford, 25 August 1934 (SHC ref STK/2/11)
Photograph of Alan Turing by Elliott & Fry, 1951 (Courtesy of National Portrait Gallery under licence)
English Heritage blue plaque at 22 Ennismore Avenue, Guildford, the home of Alan's parents, Julius and Ethel Turing (with permission of the owners; photograph: Di Stiff)
The Turing statue by John M Mills, at University of Surrey Campus, unveiled in 2004. (Photograph: Di Stiff)