In 1811, Napoleon Bonaparte, emperor of France, was at the height of his power. However, the following year, the disastrous invasion of Russia resulted in the loss of the majority of Napoleon's army. In 1813, the War of German Liberation followed by the 1814 invasion of France by the allied armies of Russia, Austria and Prussia brought about Napoleon's abdication. Napoleon was sent into exile on the Isle of Elba but, on 26 February 1815, he escaped from the island in an attempt to reclaim his throne.
By this time Britain had been at war for about 20 years, fighting mainly in Portugal and Spain in the Peninsular War. In 1814, after peace with France, many of the British regiments were sent to fight America which had invaded Canada in 1812. Despite the Treaty of Ghent being signed on 24 December 1814, many of Wellington's veteran regiments were not available to fight when Napoleon returned to power. Consequently Wellington was forced to rely on untried British regiments as well as troops from various states of Germany, Dutch and Belgium, some of whom had been allies of France the previous year. However, Wellington was assisted by a Prussian army under Field Marshal von Blücher, as well as the armies of Russia and Austria (although it would be some time before the latter would be in a position to confront Napoleon, had Wellington and Blücher been defeated).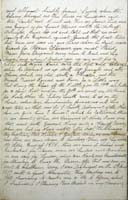 The British and Prussian armies clashed with the French in separate battles at Quatre Bras and Ligny on 16 June 1815, after which Wellington retired to the small town of Waterloo. Here he took up a defensive position and prepared to make a stand on 18 June, trusting that the Prussians would return to support him. Wellington's army held off numerous French attacks before the arrival of the Prussians ensured a crushing victory for their combined armies.
Waterloo was not the largest battle of the Napoleonic Wars (Leipzig, 1813) or the bloodiest (Borodino, 1812) but it was decisive in that it ended Napoleon's ambitions for ever. Napoleon had been defeated before, but had always managed to recover. This time French public opinion turned against him and he was forced to surrender to the British. He was sent to the island of St Helena, in the middle of the Atlantic, where he died in 1821.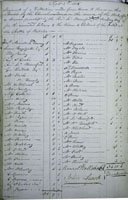 It is sometimes said that Waterloo brought almost 100 years of peace to Europe, but this is not true. There would be many wars, including the Crimean War (1853-1856) and the Franco-Prussian War (1870-1871) which resulted in the unification of Germany. The First World War meant that Britain was unable to celebrate the 100th anniversary of the battle, since France was now its ally against Prussian militarism.
Images
Select image to view a larger version.
How a British infantryman looked during the Peninsular War. His buff facings and '31' on his belt plate denote him as a member of the 31st (Huntingdonshire) Regiment of Foot, which, in 1881, became the 1st Battalion, East Surrey Regiment. The 31st and the 2nd (Queen's) Regiments were not present at Waterloo, but had fought with distinction during the Peninsular War earning many 'battle honours'. The 70th (Surrey), which was formerly known as the Glasgow Regiment, spent much of this period in the West Indies. (SHC ref 9343/16)
Sergeant Henry Swan's Account. Although none of the later Surrey regiments was present at the battle, many soldiers from the county, including Henry Swan, were. Swan was born in Elstead on 29 October 1791 and, after serving in the 2nd Surrey Militia, he joined the 1st Foot Guards, now known as the Grenadier Guards, on 5 May 1812. He served in the Peninsular War and his regiment was one of only a few veteran regiments which were at the battle of Waterloo. Henry Swan died in 21 February 1876. (SHC ref G70/33/5)
Account book from the parish of St Nicholas, Great Bookham, which lists households of the parish who donated money towards the wounded soldiers and the wives and children of those killed in the battle. (SHC ref BKG/8/5)
A thanksgiving service was held in all churches in Britain to celebrate the victory of the allies over the French. (SHC ref 2399/2/31)