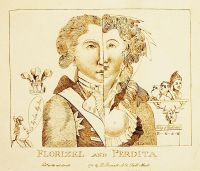 Mary Robinson, best known as 'Perdita' for her portrayal of that character in Shakespeare's The Winter's Tale, was a renowned actress, poet and feminist writer whose life was punctuated by scandal and misfortune. Born Mary Darby in Bristol in 1758 and dying in Englefield Green in Surrey, she created a name for herself in fashionable London circles and became a woman of notoriety, frequently caricatured and painted.
One of five children, Mary was educated by private tutors, until her father's unsuccessful business venture on the south coast of Labrador left her family in debt, and her parents separated. She then moved to London and after a series of failed tutors was sent to a finishing school in Marylebone. There was talk of Mary going on the stage at this point, but her debut as Cordelia in King Lear was postponed when she met her future husband, Thomas Robinson. The wedding took place on 12 April 1773 in Westminster, although it was a loveless marriage.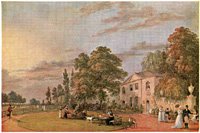 From that point Mary Robinson dedicated herself to a fashionable life, becoming known in prominent London locations. In the meantime, however, Thomas Robinson had fallen deeply into debt, and in 1774 they fled to Tregunter in Wales where Mary gave birth to her first child, Maria Elizabeth. After their return to London, Robinson was arrested and committed to the Fleet prison where Mary resided with him. Here she published her first book of poetry which did not sell well. However after her husband's release she suggested she should return to the stage.
She first appeared as Juliet in Romeo and Juliet in 1776, and by 1777 had appeared as the lead in three more plays. She went on to star as Ophelia, as Lady Anne in Richard the Third, as Emily in The Runaway, and as Lady Macbeth, amongst other roles. It was in her final season of 1779-80 that she played Perdita in The Winter's Tale, acquired her moniker and drew the attention of the Prince of Wales.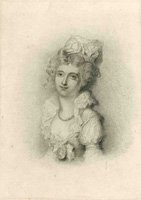 The Prince first saw her perform in 1779 and, after 4 days, claimed to be passionately in love with her. Letters show that by 1780 they were lovers, and 'Perdita' began a life of extravagance, soon falling into debt. The Prince's affections were short-lived; he transferred them to another lady, and Mary threatened to go to the press, resulting in the Prince rewarding her with the sum of £5,000 for her silence. The affair with the Prince was by no means her last. She was later linked to Viscount Malden, later fifth Earl of Essex, the Duc de Lauzan in Paris, and had further affairs with Charles James Fox, the Whig politician, and Colonel Banastre Tarleton. Although Mary was spiralling further into debt, the papers reported on her busy social life, and she remained a prominent society woman.
From 1788, Mary wrote poetry for numerous respected papers as well as pamphlets, articles and novels. She was a strong supporter of the French Revolution which heavily influenced her work. She covered many topics, some controversial, and all of them heavily feminist. She satirised the merchant class, and was said to be admired by Samuel Coleridge, having inspired the poem Kubla Khan through her interest in the effects of opium on the creative imagination. She was friends with a number of literary greats, including John Wolcot, Mary Wollstonecraft and William Godwin.
Mary's connection with Surrey came at the end of her life. In 1797 she separated from Colonel Banastre Tarleton and, as her financial situation declined, so did her health. She lived the remainder of her days at her daughter's house in Englefield Green, near Egham, and died on 26 December 1800. Although from humble beginnings, she ascended into a world of fame and vice. Her life was a whirlwind of successes and failures and her literary works are still central to the study of literary Romanticism to this day.
Images
Select image to view a larger version.
A portrait depicting the Prince of Wales, later George IV as Florizel, and his mistress Mary Robinson as Perdita, in an adaptation of 'The Winter's Tale'. By B. Pownall, Pall Mall. Courtesy of the United States Library of Congress.
A postcard depicting 'Tea at Englefield Green' by Paul Sandby (1725-1802), where Mary spent the last of her days. (SHC ref PC/56/62)
'Mrs Robinson of Englefield Green, Egham'. (SHC ref PX/56/55)